Everyone knows that a YouTuber with good number of views is making lots of money. But how do they do it? In this article, we'll show you how to make money from YouTube by becoming a Partner, using AdSense, and through product placement.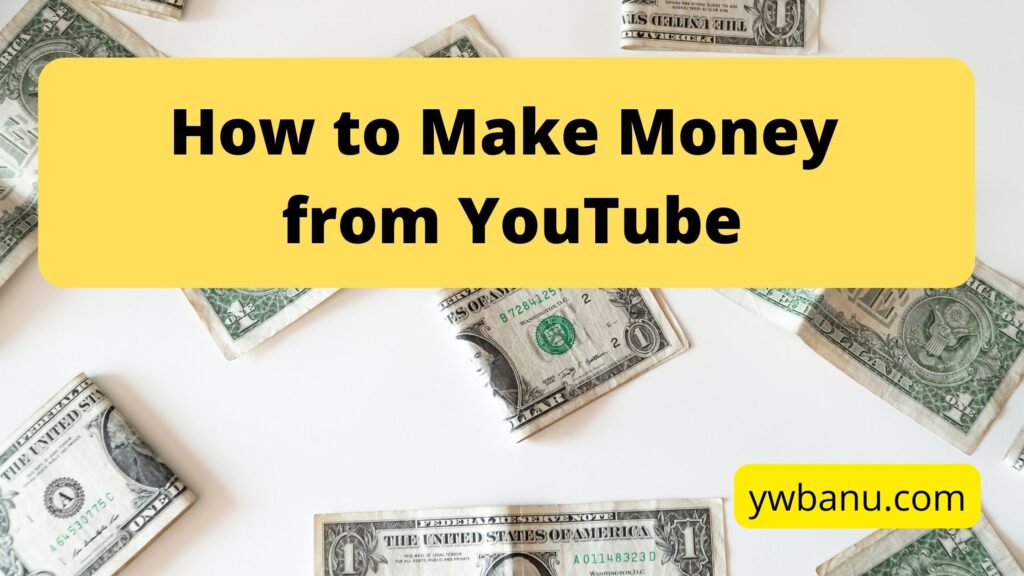 The Different Types of Videos You Can Make
Type of videos that you can make is only limited by your imagination. There are all sorts of different types of videos you can make on YouTube to make money.  Your niche is all you need to start creating your videos. Your niche should be someone who are willing to spend.  
Here are some ideas to get you started:
1. How-to videos – People are always searching for how-to videos on YouTube, so this is a great way to make money. Whether you're showing people how to do something around the house or teaching them a new skill, there's always someone who wants to learn.
2. Product reviews – Do you have a favourite product that you love to use? Why not review it on your YouTube channel? Not only will this help people make informed purchasing decisions, but you can also get paid by the companies whose products you're reviewing.
3. Gameplay videos – If you're a gamer, there's no doubt that people would love to watch you play their favorite games. You can either live stream your gameplay or record it and edit it into shorter clips. Either way, gamers will flock to your channel to see what you're up to.
4. Vlogs – A vlog is simply a video blog, and it's one of the most popular types of videos on YouTube. People love to watch other people's lives, so if you're willing to share yours, you can make a lot of money.
5. How-not-to videos – These are the opposite of how-to videos, and they can be just as popular. If you do something stupid or funny, people will want to see it so that they can laugh at your expense. Just be careful not to do anything too embarrassing!
How to Get More Views on YouTube
There are a few key things you can do to ensure that your YouTube videos get more views.
First, make sure that your videos are high quality and offer something unique that viewers will want to see.
Secondly, promote your videos through social media and other channels.
And finally, consider using paid advertising to reach a wider audience.
By following these tips, you can get more views on your YouTube videos and start making money from your channel.
How do you get paid on YouTube?
According to YouTube, they pay creators based on an algorithm that considers several factors, including:
-The number of views your videos have gotten
-How long people watch your videos
-Where in the world your viewers are watching from
-What device they're using to watch your videos
– Whether your videos are ads-friendly
This algorithm is designed to ensure that creators are rewarded for making great content that keeps people engaged. So, if you're focused on creating quality videos that people will want to watch, you're more likely to make money from YouTube.
How many views do you need on YouTube to make money?
This is a common question that people new to YouTube ask, and unfortunately, there's no easy answer.
The amount of money you can make from YouTube varies significantly based on a few factors, including:
| | |
| --- | --- |
| The number of subscribers you have | The average number of views your videos get |
| The number of subscribers you have | The type of advertising you're using (if any) |
That said, you can still make decent money from YouTube even if you don't have a massive following or millions of views.  Many small YouTubers are having a good income and drawing monthly payment from YouTube.
Here are a few tips to help you make money from YouTube
1. Use YouTube's Partner Program
One of the easiest ways to make money from YouTube is to join the platform's Partner Program. Once you're accepted into the program, you'll be able to run ads on your videos and receive a share of the revenue generated from them.
2. Sell products or services
If you have your own product or service that you sell, you can use YouTube as a platform to promote it. You can create videos that showcase your product or service in action and include a link to your website or online store in the description.
3. Use affiliate marketing
Affiliate marketing is a great way to make money from YouTube without having to sell anything yourself. Essentially, you promote other people's products or services in your videos and earn a commission whenever someone buys something because of your recommendation.
4. Sell your own merchandise
Another way to make money from YouTube is to sell your own branded merchandise. You can create a line of t-shirts, caps, or other items with your logo or channel name and sell them through an online merchandising store.
5. Offer consulting or coaching services
If you're an expert in a particular field, you can offer your knowledge and guidance to others through YouTube videos. You could provide tips on everything from how to start a business to how to improve one's fitness routine.
6. Sponsorships are another way to make money on YouTube. You can find sponsors for your channel who will pay you to promote their products or services. Product placement is another form of sponsorship, where you feature a product in your videos and get paid by the company.
How much money do you make per 1000 views on YouTube?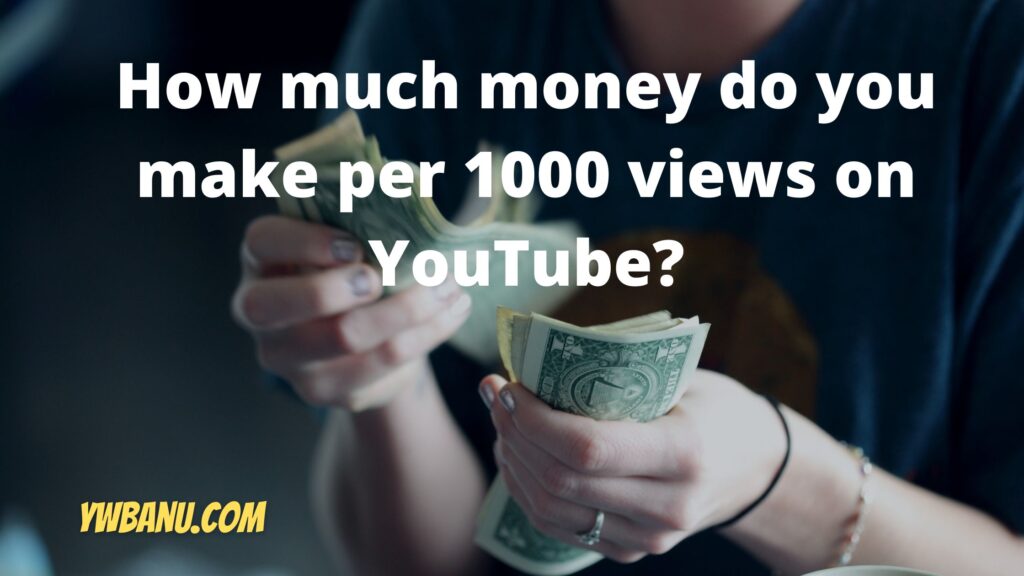 YouTube pays between $1-3.50 for 1000 views. It doesn't sound like a lot but when you start to build a back log of videos, 1000 views is achieved easily on a daily basis. Although, ad revenue isn't where the big money is. YouTubers can make a lot more money through sponsors and such.
It doesn't just depend on the views too. It depends on many other factors like:
The kind of content you make.
At what time of the year you upload the video.
In which language your video is.
In which country your viewers are in.
How many of them click on ads or watch them fully?
How long the video is.
What kind of ads you have enabled on your video?
how to make money on YouTube fast
There are a few ways that you can make money on YouTube, and many YouTubers have found success with one or more of them. If you're looking to start earning some money from your YouTube channel, here are a few things to keep in mind.
First, you need to grow your audience. The more viewers you have, the more potential there is for earning money. You can do this by creating quality content that people will want to watch, and by promoting your channel on social media and other platforms.
Once you have a sizable audience, you can start looking into ways to monetize your channel. One popular method is through sponsorships or product placements, where companies pay you to feature their products in your videos. You can also earn money through YouTube's advertising program, which displays ads on your videos and pays you based on how many people view or click on them.
Finally, remember that it takes time and dedication to make money on YouTube. Don't expect to start earning overnight; be patient, work hard, and stay consistent, and you'll eventually see the fruits of your labour.
Conclusion
So there you have it — a few tips on how to make money from YouTube. If you're serious about making a living from this platform, then put in the work and consistently produce quality content. It won't happen overnight, but with dedication and perseverance, you can achieve your goals. Best of luck!