Are you a tech enthusiast who has recently started an AI YouTube channel? Are you wondering if your channel can be eligible for YouTube monetization? Well, you've come to the right place! In this blog post, we will explore whether an AI YouTube channel is eligible for monetization and how you can start earning money from your content. So grab a cup of coffee and let's dive into the world of AI and YouTube monetization!
Join AI YouTube channel Challenge with us
Are you looking for ways to improve your AI YouTube channel and increase your chances of earning through YouTube Monetization? Then, why not join an AI YouTube channel challenge?
Participating in an AI YouTube Channel Challenge can help you learn new strategies on how to create engaging content that will attract more viewers. You can also get feedback from other participants which can help you identify areas where you need improvement.
Moreover, joining a challenge is a great opportunity to connect with fellow creators who share the same interests and passion as yours. It's always refreshing to be part of a community that inspires and motivates each other towards success.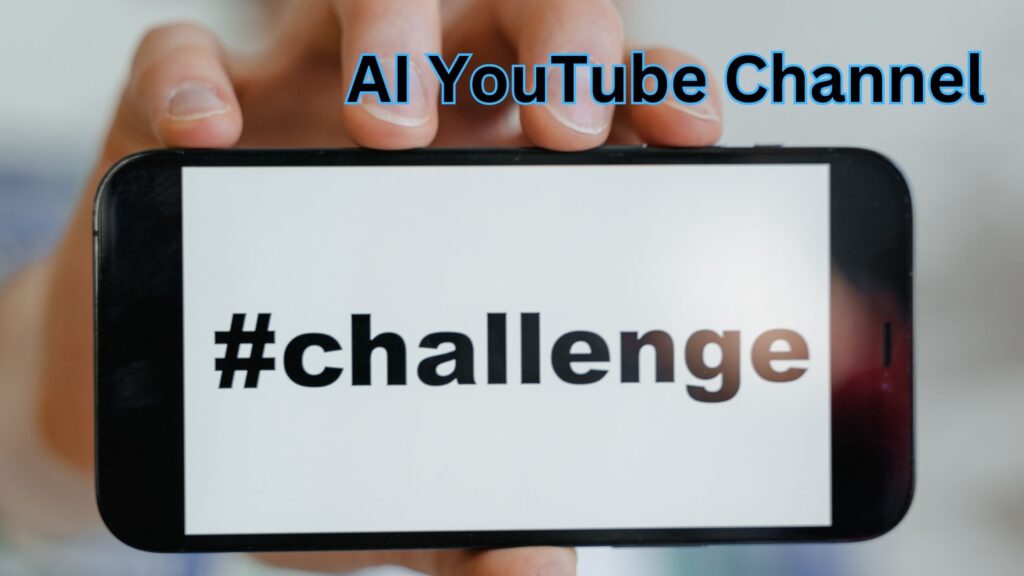 Benefits of Joining AI YouTube channel challenge:
Increased Exposure: The YouTube channel details of participants will be placed on our Home page for 3 months, giving their channel valuable visibility to a wider audience.
Expert Guidance: Participants will receive guidance for YouTube channel creation, including tips and best practices to help them get started on the right track.
Improvement Assistance: Our team will provide continuous support and assistance to help participants enhance their YouTube channels. From editing techniques to content optimization, we're here to help them improve every step of the way.
Creative Ideas: We will offer participants fresh and innovative video-making ideas to inspire them and help them create engaging content that stands out from the crowd.
Networking Opportunities: By participating in our challenge, individuals will have the chance to connect with other creators and potentially collaborate on future projects, expanding their network within the AI and YouTube community.
Feedback and Evaluation: Participants will receive constructive feedback and evaluations on their channel's performance, allowing them to identify areas of strength and areas for improvement.
Recognition: Successful participants may be featured on our social media channels or website, providing them with additional recognition and exposure for their hard work.
There are various challenges available online that cater to different niches and skill levels. Some challenges may require creating videos within a specific topic or format, while others may focus on improving video editing skills or SEO optimization techniques.
So what are you waiting for? Join us in our upcoming AI YouTube channel challenge and take your channel growth to the next level!
Join now Imaliclub.com for Taking part in the Challenge.
What is AI Generated YouTube channel?
An AI-generated YouTube channel is a channel where most (if not all) of the content has been created entirely by artificial intelligence. This means that the video's concept, script, narration, and even visuals are generated using machine learning algorithms and advanced natural language processing techniques.
AI technology can create videos quickly at a scale that would be impossible for human beings to match. It can analyze vast amounts of data to identify trending topics and generate ideas for new videos. The resulting content is often unique, innovative, and highly shareable.
Creating an AI-generated YouTube channel requires specialized technical skills in programming languages like Python or Java as well as knowledge in machine learning models such as computer vision or natural language processing. But with the right tools and expertise, creators can produce high-quality videos without ever picking up a camera themselves.
Some examples of AI-generated channels include visual effects-heavy music videos or animations which use generative adversarial networks (GANs) to produce realistic imagery on par with Hollywood-level CGI. Others include news channels which leverage NLP technologies such as GPT-3 to automatically write scripts based on current events.
The possibilities are endless when it comes to creating an AI-based YouTube channel – but what about monetization? Let's find out!
What is YouTube Monetization?
YouTube Monetization is the process of earning money from your YouTube videos. It allows you to earn revenue by displaying ads on your channel. There are different ways to monetize a YouTube channel, including sponsorships, merchandise sales, and AdSense.
To be eligible for YouTube Monetization, you need to meet certain criteria set by YouTube. First, you must have at least 1,000 subscribers and 4,000 watch hours in the past 12 months. Additionally, your content must comply with YouTube's community guidelines and terms of service.
Once you are eligible for monetization, you can start earning money through advertising revenue generated by Google AdSense. You will receive a portion of the ad revenue based on the number of clicks or views on your ads.
Monetizing your YouTube channel can be a great way to earn additional income while doing something that you love. However, it is important to remember that creating high-quality content should always come first before making money from it.
Can AI YouTube channel be eligible for YouTube Monetization?
When it comes to YouTube Monetization, the eligibility criteria are quite strict. Channels need to meet certain requirements in terms of watch time, subscribers, and content quality before they can make money through advertising. But what about AI Generated YouTube channel? Can they be eligible for monetization?
The answer is yes! As long as an AI Generated channel meets all of the same requirements as any other channel on YouTube, it can absolutely be considered for monetization. This means that the channel needs to have at least 1,000 subscribers and 4,000 hours of watch time within a year.
However, there is one important caveat: the content on an AI-generated YouTube channel must also adhere to community guidelines and copyright laws just like any other human-created content. If the videos violate these rules or contain infringing material then they will not be approved for monetization.
If an AI Generated YouTube channel has engaging and original content that meets Youtube's standards then there is no reason why it shouldn't be able to qualify for monetization opportunities!
How to Monetize Your AI YouTube Channel
Monetizing an AI Generated YouTube channel is a great way to earn money while doing something that you love. Here are some steps on how to monetize your AI Generated YouTube channel:
Firstly, make sure that your channel meets the requirements for monetization. Your channel must have at least 1,000 subscribers and 4,000 hours of watch time within the past 12 months.
Once you meet these requirements, you can apply for the YouTube Partner Program. This is done by going to your Creator Studio and clicking on "Monetization" in the left-hand menu.
Next, link your Google AdSense account to your YouTube account so that you can receive payments from ads shown on your videos.
After linking accounts it's important to remember not all content will be eligible for monetization so try creating quality content such as educational or informative videos with product reviews or tutorials which usually attract more views and thus generate more ad revenue.
Having an AI generated youtube channels comes with its own set of challenges but when approached strategically it can become a profitable venture over time.
Apart from ad revenue, there are other ways to monetize your AI YouTube Channel as well. You can create sponsored content or offer exclusive access to certain features or content through paid memberships. Remember to always disclose any sponsorship deals properly in order to maintain transparency with your audience.
Another way is by creating merchandise related to your channel which can be sold through platforms like Teespring or RedBubble.
It's important to remember that creating quality content consistently is key for building a loyal audience and earning revenue through various means available on the platform.
Can I monetize my YouTube channel using AI voice?
One of the most popular uses of AI in YouTube videos is through voiceovers. Many YouTubers use AI-generated voices to narrate their content, but can you monetize your channel using this technique?
The short answer is yes, as long as you follow YouTube's guidelines for monetization. The platform allows channels that meet its Partner Program criteria to earn money from ads, merchandise sales and memberships.
However, it's important to note that some advertisers may not be willing to run ads on videos with synthesized voices or robotic narration. This means that if your channel heavily relies on AI-generated voiceovers, you might have a harder time finding brands willing to sponsor your content.
Additionally, make sure that the audio quality of your videos meets YouTube's standards for ad-friendly content. Poor audio quality could affect viewer engagement and ultimately hurt your chances of being approved for monetization.
Ultimately, while using AI voices in your AI-generated YouTube channel videos won't necessarily disqualify you from monetizing your channel, it's important to consider how it might impact potential advertising opportunities and ensure that the overall production value of your content meets industry standards.
Conclusion
It is possible for AI-generated YouTube channel to be eligible for YouTube monetization. However, there are certain criteria that must be met in order to qualify for the program. It is important to have engaging content that meets community guidelines and attracts a large audience.
Additionally, creators should focus on building their subscriber base and increasing watch time in order to meet the minimum requirements set by YouTube. Utilizing keywords and SEO strategies can also help boost visibility and attract more viewers.
As technology continues to evolve, we can expect to see more AI-driven content on platforms like YouTube. By staying up-to-date with the latest trends and best practices, creators can position themselves for success in this exciting new field. So go ahead – start your own AI-powered channel today!