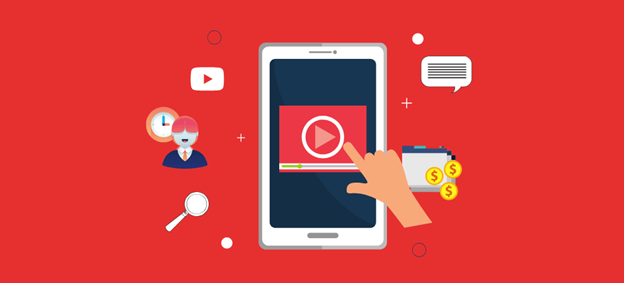 The average profit rate from YouTube ranges between 30 cents and 3 US dollars per thousand views, but this depends on a lot of factors, including: the geographical location of the viewers, the content the video covers, the time that viewers spend watching the video and the extent of their interaction with the video, and a lot more. Of the other factors, which I will discuss in detail below.
If you want to get a quick, superficial answer to the question of how much profit from YouTube? Or how much do you earn from YouTube? You can suffice with the few lines above, but I don't recommend it anyway.
This is because the answer to this question contains a lot of details and aspects, and by knowing it I promise you that you will discover that this is not the question that you really have to pay attention to … so keep reading to deeply understand how much YouTuber earns from YouTube.
In fact, many Arab youth recently became very interested in the idea of ​​profit from YouTube, and then began to wonder with great curiosity about the rate of profits that can be achieved from YouTube.
Some of these young people are interested in knowing the profit rate of YouTube because they want to start creating a YouTube channel and profit from it, and others are interested only out of knowledge, especially after the state of curiosity that was aroused as a result of publishing a post on one of the well-known sites about the rate of profits of the most famous YouTubers in our Arab region. He claimed exaggerated numbers.
In any case, whether you want to understand because you want to become a YouTuber and want to know the rate of profit that you can earn from YouTube, or you want to know out of curiosity … In this article I will answer the question in detail and in all respects, and the result is that I promise you that you will not become in need to ask this question again.
But I will not promise you that no more other questions will appear on the horizon that you will very much want to know the answer to, however this is the purpose of the article, which is to invite you to ask the right questions that will lead you to what you really need to do to achieve the maximum profit from YouTube.
These are the main points that I will cover in this article:
How much profit from YouTube per thousand video views.
The factors that determine the level of profit from YouTube.
A million views on YouTube, how much do you earn?
What do you need to start earning from YouTube?
How can you increase the level of your earnings on YouTube.
What is the secret behind YouTube millionaires.
How much profit from YouTube per thousand views
Let's agree on a bunch of points before we answer this question:
YouTube does not give channel owners money for views, but profit is achieved through ads that appear on the video.
There are conditions that must be met in order for YouTube to agree to place ads on your videos, and then give you a profit for watching these ads (we will discuss these terms later).
No one, not even YouTube itself, can tell you a fixed number that you can earn from your YouTube channel, but everyone talks about an approximate average.
There are other ways in which you can make money from YouTube other than ads, and these methods are mostly the secret of YouTube millionaires (we will discuss them shortly).
In any case, we can say that the average profit from YouTube per thousand views is between 30 cents and up to 3 dollars, but of course there are YouTube channels that earn less than 30 cents per thousand views, and also there are YouTube channels that earn more than 3 dollars per thousand views , Which can go up to $ 10 per thousand views.
But what are the factors that make a video earn 30 cents a thousand views, and another video that earns 3 dollars a thousand views? This is what we will learn about in the next point.
The factors that determine the level of profit from YouTube
The factors below contribute greatly to determining the profit rate from YouTube:
1- The country from which the observations are coming from
Of course, the video that most of its views come from America, its profit differs completely from the video that most of its views come from Egypt, and the matter here is related to a very logical idea:
America is more advanced than Egypt in the world of economy and technology, so the American citizen has better purchasing power than the Egyptian, and he is better at dealing with technology and therefore has a better culture of buying from the Internet.
2- The field of video content
In general, in the world of advertising: The more profitable there is a field, the more expensive the ads related to this field will be for the advertiser, because there are a lot of advertisers who compete for this advertisement.
So the more you select the idea of ​​the YouTube channel that attracts more expensive ads, the better your profit will be.
3- The time spent watching the video
The video that the viewer watches in full gets a better chance of ads appearing, and thus gets a better profit compared to a video that is only half watched.
4- Quality of video content
The more your channel contains high-quality videos in terms of the quality of the video itself and the quality of the content, the higher your chance to get a better profit.
Of course, there are many other factors that interfere in the equation, including factors specific to YouTube itself and its algorithms in distributing ads to videos and determining profits.
A million views on YouTube, how much do you earn?
One of the questions that many Arab youths are asking is: What is the amount of profit per million views on YouTube?
I will answer this question with a hypothetical example in order to give you an answer in numbers as you want:
Suppose your YouTube channel has a profit rate of $ 1 per thousand views:
So you can divide a million by a thousand and the result you multiply it by one to be like this (1,000,000/1000) * 1 = $ 1,000.
But what if your channel has a profit rate of half a dollar per thousand views then the average earnings per million views is $ 500.
What do you need to start earning from YouTube?
In order to profit from YouTube, you of course need a set of things, and then you must meet a set of YouTube conditions in order to actually start making a profit.
First of all, things you need to have in order to make a profit on YouTube
1- Choose an idea to specialize with and your YouTube channel around it.
There are a lot of YouTube channel ideas that you can choose from, but here I advise you to choose an idea that you have passion and interest in.
2- Start feeding your channel with high-quality videos
You have to constantly and never stop adding new YouTube video ideas to your channel, and this is your only way to build an audience and attract more views.
3- Start promoting your YouTube channel
Promoting your YouTube channel is a very important era to get more views, and in fact, no matter how high-quality content you provide, you still need marketing to achieve success.
4- Apply all possible strategies and methods to increase views
There are many methods and ideas for increasing YouTube views that you should apply to achieve the highest possible level of views.
Now you have a good YouTube channel and are already getting YouTube views, and you want to start making money, so let's move on to the terms.