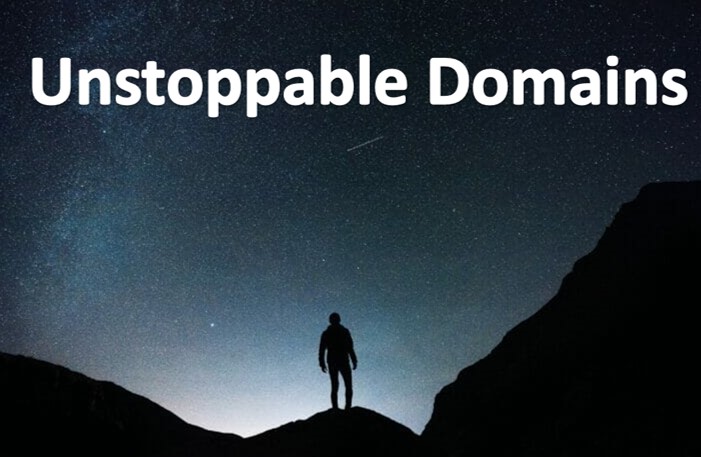 Unstoppable Domains, as you may know, are likewise based on the ERC-721 standard and can be exchanged as collectibles. Lets look at the unstoppable domains review and if you don't already have a .crypto domain, read this page to find out how to get one and claim it. If you have any questions about unstoppable domains ,this is the article for you. Let's get started because the process is quite simple.
Crypto domains, in my opinion, are far more beneficial because they allow you to replace wallet addresses with human-readable names, which is quite convenient.
Unstoppable Domains Review : NFT domain names
Opensea is a trading platform for Non-Fungible Tokens (NFT). Polygon, an Ethereum scaling platform onboarding millions to Web3, announced that Unstoppable Domains, the world's leading non-fungible token (NFT) domain naming service, is the latest to join the Polygon ecosystem. By moving to Polygon, Unstoppable Domains users will be able to buy NFT domain names without having to pay claim fees, renewal fees, or gas fees.
Unstoppable Domains Registration
With almost 1.5 million NFT domains registered, Unstoppable Domains is the most popular NFT domain naming service on web3, offering 10 NFT domain endings, including
.crypto,
.wallet,
.nft, and
.x
The .crypto domain remains the fastest growing and most popular domain with over 750,000 registrations.
Unstoppable doesn't require renewal at all
Unlike other name services, Unstoppable doesn't require renewal fees for the domains, as the user gets to own it forever instead of paying rental fees. Now, thanks to the Polygon integration, all gas fees for Unstoppable Domains users will also be covered on Polygon's full-stack scaling solution, ultimately making NFT domains free to mint and manage. Existing users will also be able to move their domains from Zilliqa and Ethereum to Polygon to manage their domains for free.
There's currently no better place to sell NFTs than on OpenSea. From CryptoKitties to artwork to domain names, there's no limit to the digital assets you can buy and sell on this platform. Similar to the ".com" web craze, the latest fever in cryptocurrency markets has buyers scooping up blockchain domain names, which are being minted and sold as NFTs. Blockchain domains turn complex hexadecimal wallet addresses into easy-to-remember names and also enable censorship-resistant websites.
The domain names typically end in phrases such as ".crypto" or ".eth." And some of the tokens are changing hands for upwards of $100,000 on NFT marketplaces like OpenSea.
Domains start at $20 and can go as high as tens of thousands of dollars, depending on the length and desirability of the name. Some of these NFTs have sold for $100,000 a piece.
Within the cryptocurrency community, domain names have also doubled as a major status symbol.
Unstoppable Domains are decentralized
Unstoppable Domains are decentralized. This makes them, in a word, unstoppable. Once a user claims a domain to a wallet, they have absolute control over that domain. Domains can be transferred, updated, and linked to other services without any involvement from Unstoppable Domains.
About Unstoppable Domains
Unstoppable Domains is a San Francisco-based company that connects Web2 to Web3 through the use of blockchain domains. Using an Unstoppable Domain allows you to create a blockchain-connected web address similar to a URL — such as Samplename.crypto or Samplename.zil for example — that translates a cryptocurrency wallet's addresses into a far simpler human-readable name that connects with decentralized apps (dApps) and exchanges.
How to get a Unstoppable Domains?
First, you'll need to go to Unstoppable Domains and use the search bar to see what kind of domain names are still up for grabs!
You'll see some of the domain variations that are available in a variety of price ranges. Aside from.zil, the domain name has no impact on the cryptocurrencies you'll be able to receive and send – it's linked to over 200. It's only that one domain name appears to be significantly more appealing than the others.
After you've decided on a domain, put it in your cart and create a free account. Once you've completed the purchase, you'll have your very own domain!
Another use case for blockchain domains is the ability to host verified content on decentralized websites. Blockchain domains can be used to showcase and promote verified NFT art collections where potential buyers can be confident that a domain actually owns the NFTs displayed in its gallery.
Since its launch in 2019, Unstoppable Domains has registered over 1.2 million unique domains with the goal of onboarding countless new users to the decentralized web.
Unstoppable Domains has created a decentralized domain registrar with many of the same tools used by traditional domain registrars and e-commerce stores so that even people with zero crypto experience can buy a decentralized domain and save it for the future. Users can create a login with Gmail if they don't already have a MetaMask wallet and those who don't yet own cryptocurrency can purchase domains via credit card or PayPal.
How does unstoppable domains work
Unstoppable Domains provides users with .crypto domains that are completely owned and controlled by the individual. Users purchase their domain name once and never have to pay for hosting fees or management of their domain. In addition, Unstoppable Domains allows cryptocurrency wallet owners to use their .crypto domains to send and receive cryptocurrency payments. Users no longer need to memorize long and error-prone alphanumeric addresses to send and receive payments. To receive a payment, someone simply needs to know your blockchain domain.
What are the benefits of a domain from Unstoppable Domains?
A domain from Unstoppable Domains has several benefits over its traditional counterpart. Just like other blockchain-powered applications, domains from Unstoppable Domains cannot be censored by the government or any other power.
In addition, you, as the owner of a domain, have complete control. The technology also simplifies the whole process of transacting in cryptocurrencies.
Here are some benefits of a domain from Unstoppable Domains:
Full ownership
Unlike traditional domains that you lease, a domain from Unstoppable Domains is yours forever. That means you have custody of your domain name and can sell or transfer it at any time without the need for an intermediary or power to authorize the action.
Censorship-resistant
They could also be used as censorship-resistant domains. Being blockchain-native, domains from Unstoppable Domains are immune from arbitrary takedowns or regional blocking. Content that is deemed controversial, such as activism, can find a secure home on Unstoppable Domains. Also, no company, state or group can pull down or compromise in any way an Unstoppable Domains' website unless they own it.
Simpler crypto payments
You no longer have to deal with long, user-unfriendly wallet addresses when sending and receiving cryptocurrency. Simply tell the sender your domain that's attached to the address under the hood. For example, if your name is Alice, you can name your domain alice.crypto instead of copying and pasting your address – a less user-friendly option.
One-time payments
Unlike traditional domains, domains from Unstoppable Domains are not rented or leased. When you purchase a domain, you own it forever. Not only is it a time-saver, but it also removes the hassle of having to renew your registration fees at each turn of the year.
Can I resell my domain from Unstoppable Domains?
Yes, you can resell your domain. If you intend to resell your domain, you can mark it for sale and provide a contact address next to it. Opensea is an example of a third-party marketplace that supports such sales. Domain names can be sold as collectibles.