If you are a new blogger and wondering how to make money blogging, then you are in the right place.
This article will help you to learn more about monetizing your blog and how other bloggers earn $1000 through their blog.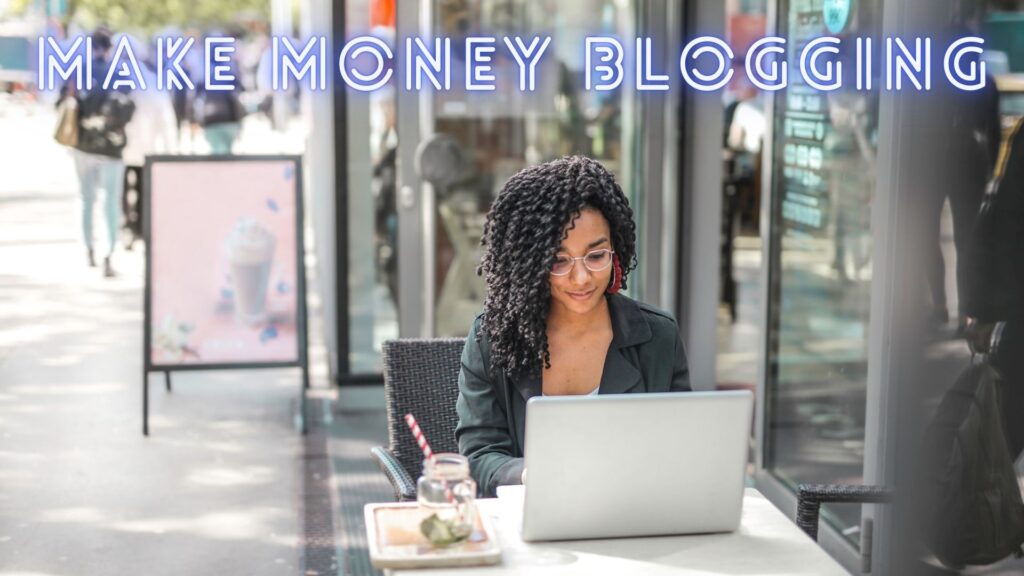 There are hundreds of new blogs launched every single day, but not all of them are earning massive money like others.
If you want to earn money then you have to know about the ways of monetizing your content.
Everyone thinks about AdSense when you read 'monetizing your contents', but you can monetize through other ways too.
Let us see how bloggers are making money blogging through an ad network, affiliate marketing, and sponsored posts.
1. Bloggers make money with ads
This is the first and most popular way of monetizing your content.
Every blogger who wants to earn money through blogging will consider AdSense as the best way of earning money.
There is no wrong with it, with the help of ads; many bloggers are earning more than $1000 in a single month.
How does it work?
Bloggers sign up in an ad network by agreeing to place ads on their website.
If the visitor clicks the ads on the website then the ad network will pay you money. You can earn money from CPC and CPM.
– CPC (Cost per Click)
The ad network will pay you when the visitor clicks the ads on your website.
The ad network pays according to the geographical location of the visitor.
Countries like India and Malaysia will have low CPC (Cost per click) while the countries like USA, UK, Canada have high CPC.
CPC is a more profitable model than CPM because CPC can generate more money than CPM.
– CPM (Cost per mille)
It is also called Cost per thousand impressions.
The ad network will pay you for every thousand views of their ads in your blog.
You generate money through every 1000 views of your blog. This model does not generate as much money as CPC.
Most popular ad networks
The most popular ad networks are
– Google Adsense
Most popular and widely used ad network by beginners.
It does not require any monthly views or monthly sessions.
It is one of the easiest ways for new bloggers to get started in the advertising world.
– Adthrive
Adthrive is another popular ad network but it requires 100,000 monthly page views (measured as per Google Analytics).
With this ad network, you can earn more money than Google AdSense.
It allows us to connect with high-tier premium advertisers and exclusive partnerships.
– Mediavine
Mediavine is another popular ad network that works as the best Google AdSense alternative.
Even some new bloggers know about mediavine.
Mediavine requires 50,000 sessions in the previous 30 days (as per Google Analytics) and good standing with Google AdSense.
2. Bloggers make money with Affiliate Marketing
Affiliate Marketing is the second known monetizing way for new bloggers.
But in fact, you can earn more money with affiliate marketing than ad networks.
Many top-tier bloggers earn tons of money through affiliate marketing.
They earn more than $2000 by promoting affiliate products.
Affiliate Marketing is one of the easiest ways for anyone with a blog to earn money as soon as they start a blog.
You can even monetize your content before you get approval from ad networks like AdSense, Mediavine, Adthrive.
Affiliate marketing does not require pageviews to get approval, you can just sign in and start earning by promoting the affiliate products.
How does it work?
There are lots of affiliate marketing networks available. You can sign up on affiliate marketing sites and research the products you want to promote.
Then you should get the affiliate link for the site and promote it on your site.
You will earn when people buy the products using your affiliate links.
Bloggers can become affiliates for companies too, but only a few bloggers get selected by companies.
Popular Affiliate Networks
It is one of the popular affiliate marketing networks used by many bloggers.
It has lots of products with good commission rates. Currently, this network does not accept Indians but it is one of the best affiliate marketing networks.
– Amazon
Amazon is the biggest eCommerce site and is widely used by people all over the world.
It also provides affiliate marketing to influencers and bloggers.
Amazon is used worldwide so it makes the purchase of each product very easier.
However, the commission for promoting amazon products is not as high as Clickbank or other affiliate marketing sites like digistore24.
– Digistore24
It is also one of the popular and widely used affiliate marketing networks by both influencers and bloggers.
This affiliate network provides a higher income than many other affiliate sites.
– CJ affiliate by Conversant
CJ affiliate also is formerly known as Commission Junction.
It is one of the best affiliate marketing sites and provides a decent commission to bloggers and influencers.
Many new bloggers will sign in for amazon affiliates because amazon is recognized worldwide.
3. Sponsored Posts
Sponsored posts are nothing but you get paid to write blogs about the company or brand and its products. This method to make money through blogging can go with big bloggers and small bloggers.
How is it done?
(For big bloggers)
The sponsored posts are done by both small and big bloggers. The companies want their brand to reach more audience means than approach big bloggers.
Then they made a contract with them like they will write blogs and publish on their website as sponsored posts.
Sometimes a company approach asks big bloggers to write a product review of their products. Big bloggers' websites have millions of page views so they want their products to feature in their blogs.
(For small bloggers)
In another way, some small bloggers can approach a company and offer their services by showing their website as a testimonial. If the company is satisfied with its blog, then the company will sponsor the small bloggers by asking them to write articles about their products.
The companies can publish the articles either on their company's website or on a blogger's website.
Conclusion
We have given a clear and detailed process of monetizing your content with three monetizing strategies. Now, what are you waiting for? Go and start a new blog and monetize your content with the above-mentioned steps and start to make money through blogging.