Blogging is about sharing your knowledge with the world. Writing about things that you already know about makes the process of starting a successful blog so much easier. How to Increase Blog Traffic for Free? As long as you are writing about things that you are genuinely interested in, your writings will shine through and keep your visitors interested.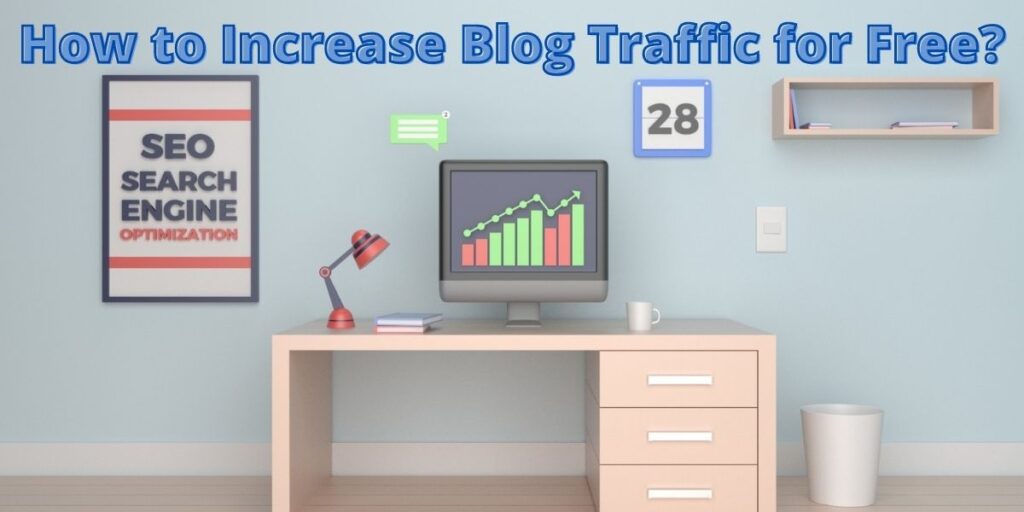 Create a helpful content
People will not visit your website because you have a colourful design (which is also important), but they will only come because of the good and helpful information you share. These people want answers to their problems and only you can make a difference in their lives. Therefore, put in extra effort to always create valuable and informative content, no matter the cost. When you consider the fact that blogging doesn't involve so much monetary investment, but your time, it should motivate you to work smarter.
Stop writing 300 – 400 words article. If you intend to bring your blogging to the next stage, do your best to increase the length of your posts. There is something mysterious about longer posts that Google always find interesting. I have noticed that a longer post is bound to rank higher than short posts, no matter the competition. If you don't believe it, check out the first 3 websites from your google search.
Now that you have nicely set up a beautiful looking blog site, let's move on to getting some free traffic to your blog site.
How to Increase Blog Traffic for Free? I do IFTTT
Sounds weird? What is IFTTT? IFTTT helps all your apps and devices work better together. I use IFTTT to automate tweeting. Actually, IFTTT stands for "If This Then That" and it is a web service that allows you to automate a huge array of things on the internet by using "if statements". If statements are used in programming but IFTTT makes them accessible to everyone. This means, whenever I submit a blog post on my website, IFTTT will help to automatically tweet about the new article post on my Twitter account. Sounds wonderful? yes, it's pretty easy and you must do this set-up too.
In the digital world, it can be hard to stay on track and get things done when there are lots of small tasks disturbing your workflow. IFTTT helps to put all those tedious Twitter engagement tasks on automatic so that you can focus on blogging. If you want to do well on the social media platform, you need to be engaging with your followers every day, and a lot of people simply don't have the time for this. This is especially helpful for bloggers like us because we are trying to increase traffic to our website and gain some new followers every day.
As we mentioned earlier, using an IFTTT can help you save time every day. This is because you won't have to allocate any time toward your Twitter engagement – instead, you can work on writing for your blogging site and have the boring tasks be done by an automated system.
This is literally the definition of work smarter, not harder, and in a world like this, it's essential that you adapt and take this on as a part of your website increasing model.
How to set up the IFTTT automated tweeting?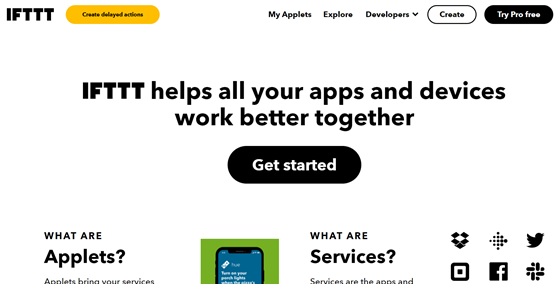 Log in to IFTTT and click "Create".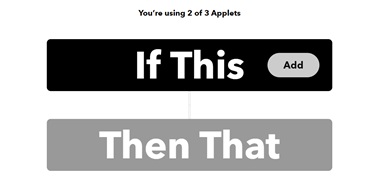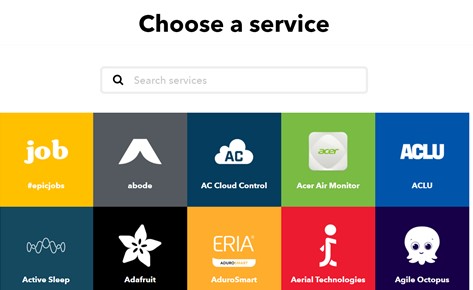 Search for "RSS feed"
Select "New Feed Item"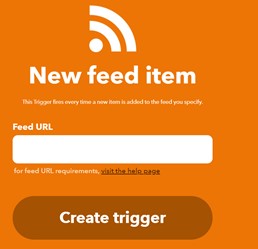 Insert your RSS feed URL. For WordPress, It is usually," https://yoururl/feed ". Example mine is: https://ywbanu.com/feed .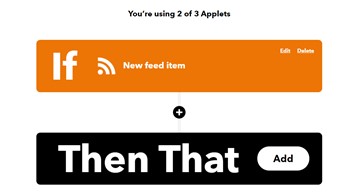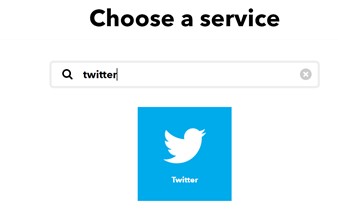 Then choose the "Twitter" service. Choose "Post a Tweet".
Proceed with "Create Action" unless you want to "Add Ingredient".
Now our automated tweet is complete. Just like that. Very easy with just a few steps. Moreover, you can step up three such automation for free. IFTTT has been on a mission to make the world more connected. Get the tools that help everything work better together. Simply put, IFTTT allows you to create chains of simple conditional statements, called "recipes", which are triggered based on changes to others. When you connect two services together IFTTT will allow you to post content from one platform to another. IFTTT is very easy to use.
Let's move on to the next source for more Free traffic.
Increase blog traffic with Pinterest
If You have not been using Pinterest, you are doing a terrible mistake. You have been losing at least 1000 unique visitors a month. Whenever you submit a post on your blog site. You must immediately announce it to Pinterest with a beautifully designed Pinterest image. Let's go in detail, step by step how you can achieve huge traffic from Pinterest.
When you search on Pinterest, as you are typing Pinterest will suggest some keywords to you. Do not ignore them. These are frequently searched keywords on Pinterest. You have to play around with them and use one of these keywords suggested to build your "Pin" on Pinterest. From the picture below, I am going to use "how to increase blog traffic from Pinterest" for my next "Pin" Post. It is related to our article"How to Increase Blog Traffic for Free?"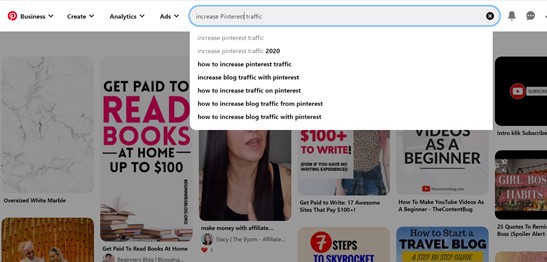 I use Canva to build an attractive image for my Pinterest Pin Post.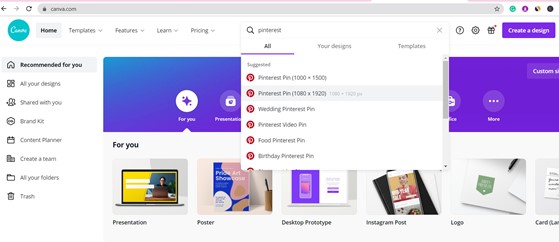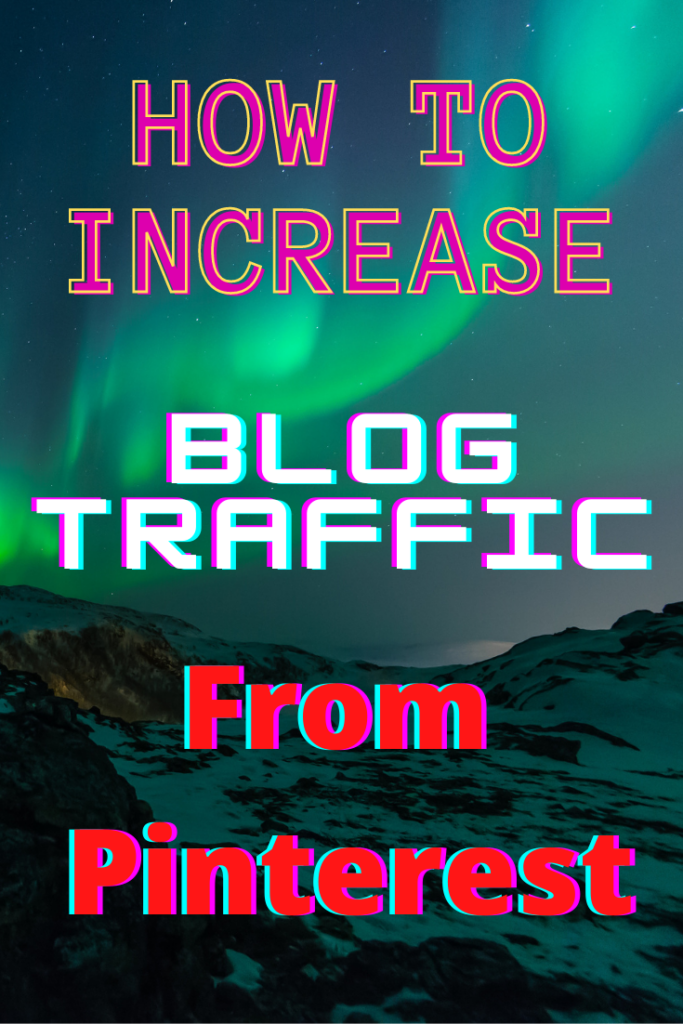 This is the design created in 2 minutes.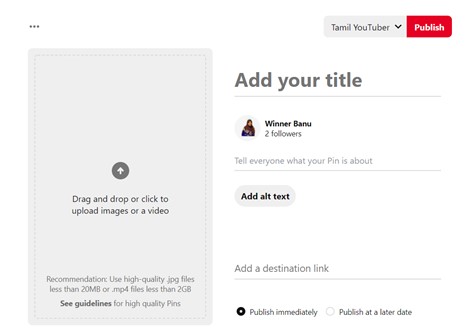 Let's create Pin now. Add in the necessary details required. Your title should be the keyword that we chose earlier. "how to increase blog traffic from Pinterest". Write a short description of the Pin. The description also must have your keyword phrase. Of course, the destination link should be your website URL of a certain post or just your Homepage URL.
Post a Pin every day.
Pinterest is home to billions and billions of Pins, with that number growing exponentially on a daily. Needless to say, to make sure your targets actually see what you post, you need to be posting more than once per day. Whether you submit a post in your Blog every day or not, but you must post at least two Pins every day.
Repinning material from others should be a big part of your Pinterest marketing strategy as well.
This is also a great way to get noticed by the original source of the content and get them to follow your page.
And don't forget to edit the descriptions on your posts — add your own keywords and unique takes on the material.
Don't try to grow your followers on Pinterest. Since Pinterest is a search engine, your follower number isn't critical. Once you follow the above strategy, you can see passive traffic flowing to your blog – and more followers will start building up.
Pinterest is not just for images anymore. The site has a vibrant community of diverse readers, and Pinterest is only enhancing this personal magazine type readership. Don't miss the developing opportunities to expand your global reach through Pinterest. Use the tips from this article to drive more traffic to your blog.
Submit your blog to Google News
Here's what Google News looks like: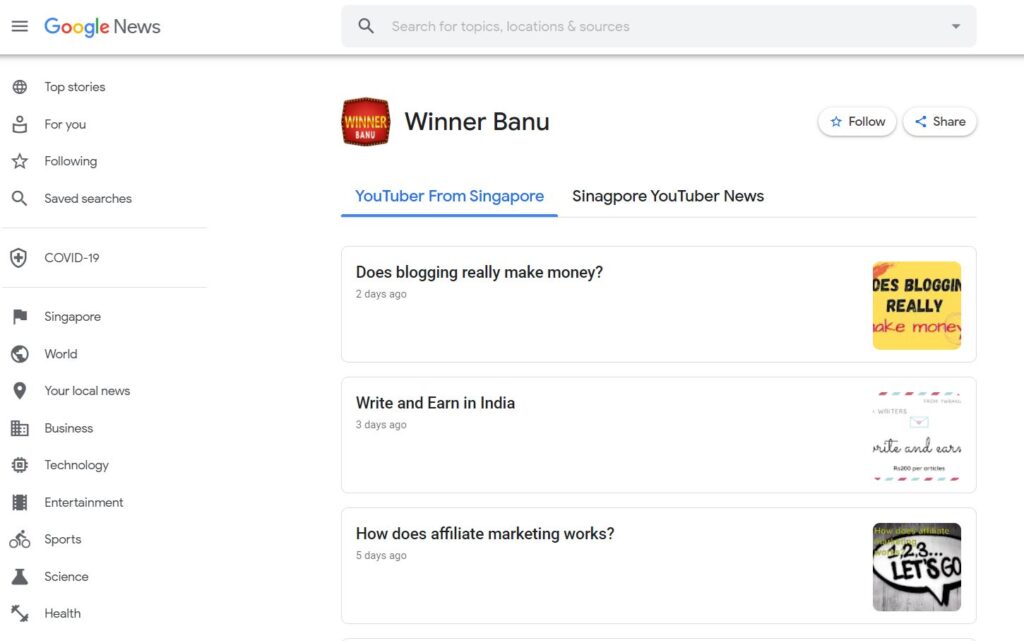 If you submit your blog site to Google News you can increase brand/expert/service reach, visibility, and traffic (some of which will ultimately lead to increased sales and end results). To get your share of the billions of clicks these articles get, you'll need to know how to submit your blog to Google News. You'll also need to know how to get your posts indexed by their sitemap crawler and ranked in Google News.
You can use the Publisher Center tool to share your content with Google News by submitting RSS feeds, website URLs, or videos.
Your Site + Google news >> is a big boost to your site's traffic, credibility and authority.
You don't have to be a news site to get listed on it, but you need to publish newsworthy content regularly. Getting into Google News is a powerful way to increase your domain authority, quickly index your articles, and increase your website traffic BIG time.
How to Submit to Google news?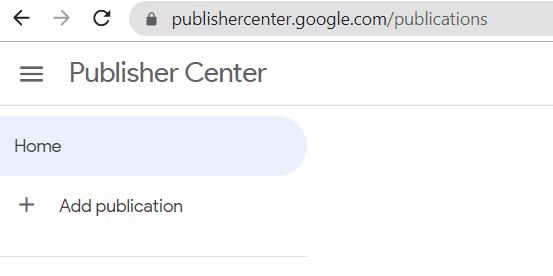 Just click "Add Publication" and Google will guide you through in Submission.
As per Google news Policies, do follow the following:-
Be original content
Provide precise dates, bylines, author details, information about your site, and contact information
Always disclose ads and sponsored content
Not infringe on anyone's copyrights or intellectual property
Not contain sensitive or hateful content
Avoid link schemes, malware, viruses, or other harmful software that generate unnatural traffic, content, or any other behavior
write straightforward blog titles and headlines.
Google News Sitemap
A sitemap is an XML page that outlines your site's structure and lists all the important pages and elements on it. Search engines use it to crawl your site and understand your site structure.
For Google News, you need a special sitemap that follows the Google news guidelines. You'll want a news-specific XML sitemap, which lists the posts you've published within the last 48 hours, up to a maximum of 1,000 articles. Google will look at both sitemaps when it crawls your website, but it mainly uses the news sitemap when it considers adding content to Google News.
You'll need to write high-quality original content, publish it regularly, optimize your content, and add a news sitemap to your site. Getting your site listed in Google News can do wonders for brand awareness, the website traffic and even search engine rankings.
Getting into Google News requires following the steps listed above to ensure that Google recognizes your site and places your content right in front of the eyes of your audience.
How to get featured in Google Discover
In September 2020 Google decided to upgrade its existing feed. One of those is that the users can now get information without even searching for it. Many people see customized feeds on their chrome browser on their mobile on daily basis. This is Google Discover Feed.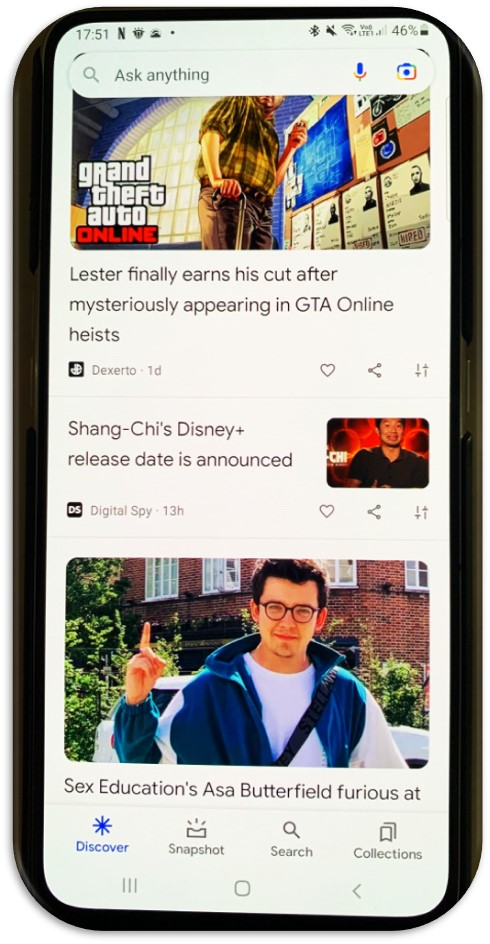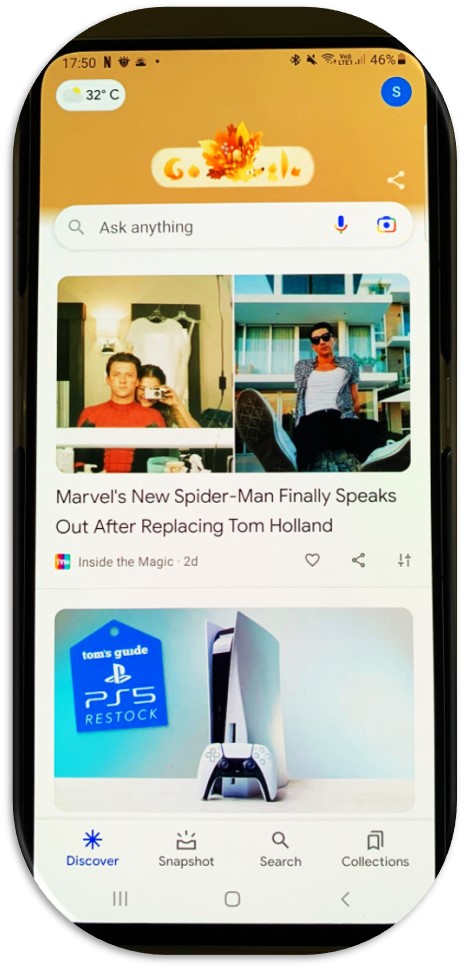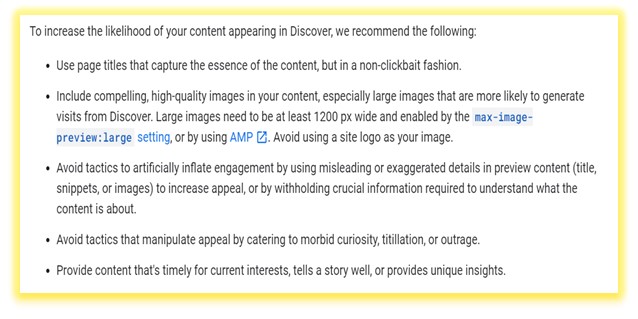 Having A Mobile Friendly Website Is A MUST
AMP, accelerated mobile pages, is a mobile page acceleration feature, which, as you know, offers pretty good features for websites to increase mobile site speeds and is shown with a lightning bolt next to the page in search results.
This feature also allows us to use traffic channels such as Google Discover and our content will perform better and increase the chance of getting a high ranking.
Just like most other online platforms, Google Discovery relied on images for grabbing users' attention. It's really important to ensure using high-quality images whenever possible.
Google recommends large images to be at least 1200px wide and enabled by the max-image-preview: large robots meta tag or by using AMP.
This is what the Max Image Preview meta tag looks like:
<meta name="robots" content="max-image-preview:large">
The part that's labelled "robots" means that the meta tag is meant for software called "robots" that crawl the web looking for web pages. Robots are also known as crawlers and spiders (because they crawl the web).
The part that's labelled "content" is the setting that tells Google what size image to show. There are three settings: None, standard and large.
This meta tag can be added easily using Rank Maths Plugin. The meta tag manager is given below for every blog post so that you can add these meta tag details manually.
Even if your page hasn't yet surfaced on Google Discover, it doesn't mean it never will. In such cases, republishing the content with required changes can improve the searchability of your content.