Blogging can be a rewarding; creative experience and it may also be a way for you to earn passive income. It all depends on your goals.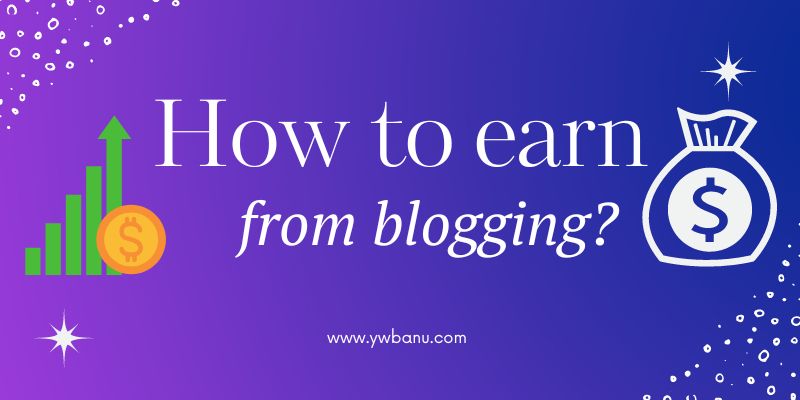 There are many steps involved in creating content for your blog post or website – planning out the topic you want to cover, doing research on related topics so that you have sources lined up in advance, and structuring your article so that it flows from point to point.
A common question in all bloggers' mind is, "Can you actually make money blogging?". My answer to this is always a yes, but it does not happen overnight.
Let's look at how it can be done and what are the basic steps to achieve your passive income from blogging.
You need to find your niche
The first step to starting any business is finding your niche. It will be much better, if your niche selection follows your passion, your expertise and something that you enjoy doing.
Once you have a good understanding of your passions and expertise, you can begin to narrow down your business ideas and start to focus on a particular market.
It's important to remember that your niche doesn't have to be unique. In fact, it's often better to focus on a specific subset of a larger market. For example, if you're passionate about fashion, you could focus on designing handbags or children's clothing. By narrowing your focus, you can better target your marketing and advertising efforts and attract the right customers.
So if you're feeling lost or uncertain about starting your own business, take a step back and think about what you enjoy doing and where you have most knowledge about.
Create epic content
In today's age, a website's success is largely dependent on its search engine optimization or "SEO." Good SEO can be the difference between a website that gets lost in the internet abyss and one that consistently appears on the first page of relevant search results.
There are a number of things that go into good SEO, from the words on your website to the way your website is designed and coded. In this article, we'll give you a few tips on how to write SEO-optimized content for your website.
Keep your content relevant to your website's purpose and target audience.
Use keyword-rich titles and descriptions.
Structure your content in an easy-to-read format.
Use images and videos to break up your text and improve engagement
Make your blog design look professional
Having a professional looking blog design is important if you want to be taken seriously as a blogger. There are a few simple things you can do to make your blog design look more professional.
First, choose a clean and simple theme. A cluttered or overly busy theme will make your blog look amateurish. Second, make sure your blog is easy to navigate. Your readers should be able to find what they're looking for quickly and easily. Lastly, use high-quality images and graphics. This will give your blog a polished and professional look.
By following these simple tips, you can make your blog design look more professional and attract more readers.
Monetize your blog
There are a few ways to monetize your blog. You can sell advertising, become an affiliate for other products or services, or sell your own products or services.
Adsense is the most common way to monetize a blog. You can sell advertising space on your blog or use a pay-per-click service like Google AdSense.
Affiliate marketing is another way to monetize your blog. You can promote other people's products and services on your blog and earn a commission on every sale you make.
Selling your own products or services is another great way to monetize your blog. If you have something to sell, whether it's a physical product or a digital service, you can use your blog to reach potential customers and make sales. From example, I have my own digital products ( 50 backlinks for bloggers) that I sell online in my blog.
Promote your blog like crazy
The best way to monetize your blog is to promote it like crazy. Get the word out there and drive traffic to your site. The more traffic you have, the more potential you have for making money. There are a number of ways to promote your blog, so get creative and start spreading the word. My most favourite method is using Twitter.
Network with other bloggers
Blogger networks will typically connect you with other bloggers in your niche. There are also several organizations and groups dedicated to helping bloggers network and connect with one another. Social media is another powerful networking tool for bloggers.
Creating a presence on Twitter, Facebook, Google+ and LinkedIn can help expand your reach and connect you with new readers, especially if you take the time to actively participate in these communities by sharing interesting content and engaging in conversations.
Finally, attending blogging conferences and events is a great way to build relationships with other bloggers as well as learn more about the business of blogging. You can find events geared specifically towards bloggers in just about any major city, or even online.
Keep going even when you don't see results immediately
It can be discouraging when you don't see results immediately from your blog monetization efforts. However, it's important to keep going and not give up. If you keep at it, eventually you will start seeing the fruits of your labor. Just don't give up too soon!
More ways for blogs that make money
There are many different ways to monetize your blog. Here are some of the most popular methods:
1. Advertising: Selling ad space on your blog is one of the most common ways to make money. You can work with ad networks or directly with brands to sell advertising space on your site.
2. Sponsored posts: Another common method is to work with brands on sponsored posts, where you write about a product or service in exchange for a fee.
3. Affiliate marketing: You can also make money by promoting products and services as an affiliate, earning a commission on every sale you generate.
4. Digital products: Many bloggers also sell digital products such as e-books, courses, and other resources. This is a great way to monetize your blog if you have valuable information to share.
5. Physical products: Finally, some bloggers also sell physical products through their blogs. This could include anything from arts and crafts to clothing and accessories. If you have a product that you're passionate about, selling it through your blog is a great way to make money.
Conclusion
I would like to emphasise again, a good passive income from blogging don't just happen overnight. You must put in some amount effort and time to your blog as an investment. Once you start to see it grow, you will eventually start putting in more effort.
Blogging is the easiest online making money method. Blogging can be done by anyone and any age group. Yes, blogging make money and it doesn't cost, it doesn't take much time, and it's virtually effortless to assimilate into your lifestyle.