To drive traffic to your website, you need to make sure that you are using the right keywords in your content. With the right keyword research tool, you can easily find out which keywords are most popular among users and make sure that you are using them in your content!
The tools that we going to suggest in our article here is absolutely free to use, and you can use it for an unlimited number of times. It is also very easy to use, so you don't have to be a tech expert to use it.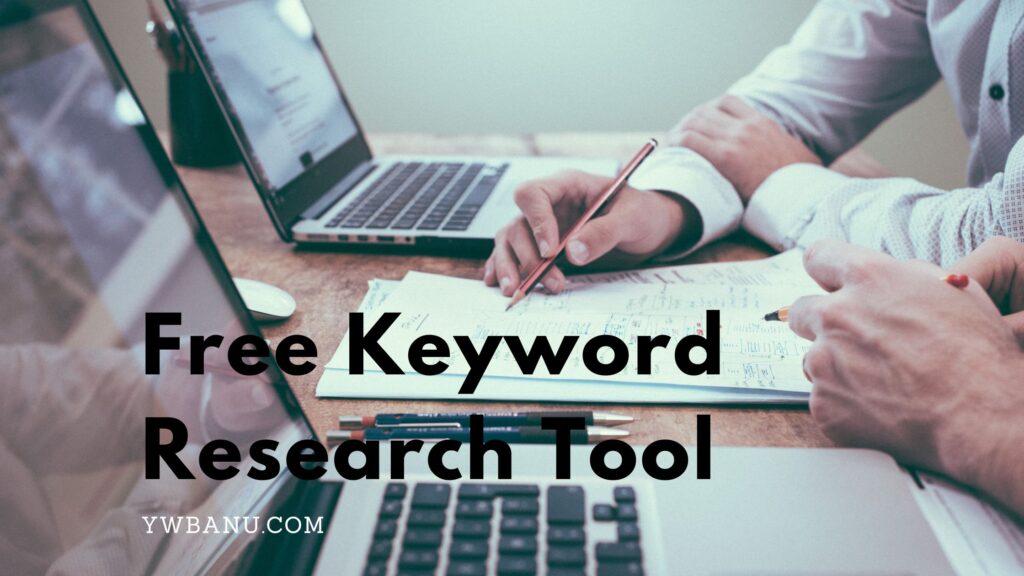 What is a keyword research tool?
A keyword research tool is a software application that helps you discover new keywords and track existing keyword trends. Typically, these tools will also provide you with data about keyword competition and search volume. This information can be invaluable when trying to improve your website's search engine optimization (SEO). Search engine optimization (SEO) professionals use to find and research search terms that users enter search engines when looking for products, services or general information.
There are many different keyword research tools available on the market, both free and paid. In this article, we will focus on free keyword research tools. While paid tools may offer more features and data, free tools can still be very effective for keyword research. Free is always good to use and less painful on your wallet.
How do keyword research tools work?
There are several different keyword research tools available on the market, but they all work in essentially the same way. You enter a seed keyword into the tool, and it returns a list of related keywords, as well as some data about each keyword, such as search volume and competition level.
This data can be extremely valuable when you're trying to determine which keywords to target for your SEO or PPC campaigns. By understanding which keywords are most popular and have the lowest level of competition, you can choose keywords that are more likely to result in traffic and conversions.
Good keywords that are highly competitive are less likely to rank in the top. Keywords that have no monthly searches are believed to generate little to no traffic and therefore of little value for SEO. Keyword stuffing in a web page should be avoided.
The benefits of using a keyword research tool
If you're serious about SEO, then you know that keyword research is important. The right keywords can help you rank higher in search engine results pages (SERPs), get more traffic to your website, and improve your bottom line.
In this blog post, we'll take a look at the benefits of using a keyword research tool.
So let's get started!
The top keyword research tools
There are several great keyword research tools available on the market, but which one is the best for your needs? Here is a rundown of the top keyword research tools to help you make the best decision for your business.
Google AdWords Keyword Planner – This is a free tool from Google that allows you to research keywords for your ad campaigns. It provides data on monthly search volume, competition, and suggested bid prices.  This tool is part of Google Ads and is designed to help businesses create advertising campaigns. However, it can also be used for keyword research. Google Keyword Planner allows you to see how often certain keywords are being searched for and also provides data on related keywords.
Google Trends is a free research tool provided by Google to see the trends of any particular keyword. It particularly helps to visualize and compare the data from Google searches. The tool uses graphs to showcase the trend of data over time. It allows users to compare multiple keyword trends to find out which keywords are popular than others in particular regions at a particular time.
Moz Keyword Explorer – This is a paid tool from Moz that gives you detailed information on keyword difficulty, search volume, and SERP features.
Wordtracker – This is a paid tool that offers both keyword research and tracking capabilities. It provides detailed information on search volume, competition, and keyword difficulty
SECockpit – This is a paid tool that offers unique features such as keyword lists, SERP analysis, and competitor analysis.
KeywordSpy – This is a paid tool that provides detailed information on competitor keywords, ad copy, and more.
Another great free keyword research tool is Ubersuggest. This tool was created by Neil Patel, a well-known online marketer. Ubersuggest provides data on search volume, CPC, and competition for a variety of keywords. It also offers suggestions for related keywords that you may not have thought of.
The Keywords Everywhere browser add-on can be easily installed on either Chrome or Firefox. The best part is that we show you monthly search volume, CPC and competition data of keywords on multiple websites. Keywords Everywhere is going to save you a lot of time, time that would have otherwise been spent on copying data from one website while finding search volume from another. Keywords Everywhere lets you find long-tail phrases with their accurate search volume, CPC and competition data.
RankMath – Rank Math is the most powerful way to get BEST WordPress SEO tools added to your website. Rank Math is a Search Engine Optimization plugin for WordPress that makes it easy for anyone to optimize their content with built-in suggestions based on widely-accepted best practices. Easily customize important SEO settings, control which pages are indexable, and how you want your website to appear in search with Structured data.
How to choose the right keyword research tool for you
When it comes to keyword research tools, there are a lot of different options to choose from. So, how do you know which one is right for you and your business? Here are a few things to consider when making your decision:
1. What is your budget?
There are many free keyword research tools available, as well as paid options. If you have a limited budget, then a free tool may be the best option for you. However, if you can afford to invest in a paid tool, then you may get more features and benefits that can help you in your keyword research.
2. What features do you need?
Each keyword research tool offers different features. Some tools focus on helping you find the right keywords, while others provide insights into how difficult it would be to rank for those keywords. Consider what features are most important to you and your business goals before making a decision.
3. How easy is the tool to use?
You don't want to spend hours trying to figure out how to use a keyword research tool. Look for a tool that is easy to use and navigate so that you can get started with your research right away.
4. What is the tool's customer support like?
If you run into any problems or have questions about the tool, you want to be able to get help from the customer support team. Look for a tool that offers excellent customer support in case you need it.
Conclusion
Investing in new technology for your business isn't always an easy decision, but the value an SEO platform can bring to your business is worth the effort. Uncover customer search intent and identify new ways to rank with your right best free keyword research tool.