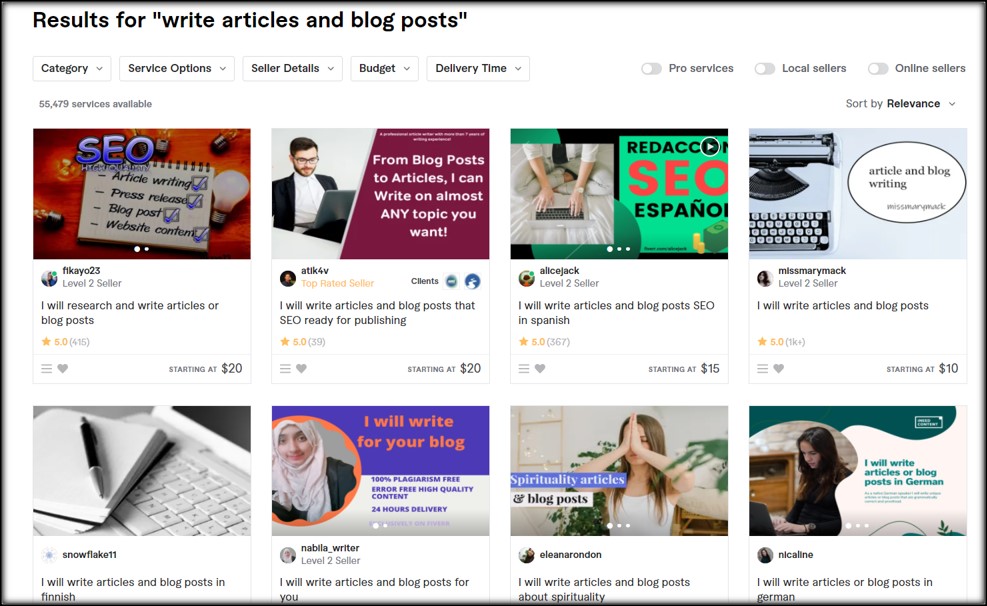 Longreads
Longreads.com is an article writing site especially for freelancers who like to make money writing.
If your article gets approved by the editor, you will get 500$ per article. This site is best for those who have the best writing skills. Longreads.com is truly for those persons that are gifted in writing. They can seize this opportunity to earn something while writing a quality article piece. $500 is good but the selection process will be very difficult. 2500 words is not bad. Anyone can get that with time. It'll be worth trying Longreads.com if you have the time and zeal for writing.
Fiverr
Fiverr is filled with general article writing gigs that can research and write almost any kind of content. But if a good article writer who is new on Fiverr, you could possibly get work done for a very low price before they raise their pricing. Anyway, loads of interesting opportunities on there for both sellers and buyers, worth a look into/trying out in my humble opinion. Create your own Fiverr gig now and start to make money writing.
Listverse
Listverse might be a good place to submit a high-quality article and earn money, but their standards are very high and the review process is very complicated. Most of the time your blog post will be rejected for no reason at all. Therefore this is getting less popular among writers, but still worth giving it a try.
Copyhackers
They pay $300 to $1000 USD for every accepted completed post. That's more than you'll find anywhere. And it's decent compensation given the amount of time you'll want to put into making your post perfect. If you have a lot of knowledge about business, branding, copywriting, and similar niches, you will want to try this platform. . Plus, they only publish one-third of all the articles they accept. So, you will need to really stand out to stand a chance of getting published.
Photoshop Tutorials
Just as suggested by the name, Photoshop Tutorials specialize in tutorials on Photoshop. It enables readers to create anything they can imagine by learning beginner or refined skills. Photoshop Tutorials is also a platform where writers specializing in the tutorial niche can promote their work. Payment per tutorial is $50 for a quick-tip or $150-300 for a full tutorial.
FreelanceMom
FreelanceMom pays $75-$100 for articles between 900-1500 words, with a bonus of $150 each month for articles that are at the top of their most shared list. Motherhood and following your career dreams. Freelance Mom is a community for moms who believe that women can still be who they are after becoming a mom. This site favors personal stories, case studies, practical and actionable advice and "Highly personal articles where there are lessons learned that you share or aggregated case studies from other moms running businesses based on a particular theme."
Income Diary
Income Diary pays $200 for articles that are a minimum of 1,500 words. Their website will also sometimes list topic-specific articles they're currently looking for (such as SEO, for example) at a higher rate of pay. If you want to write for IncomeDiary they have a step-by-step blueprint that you should follow. This ensures that you follow the standards of the site and that your article is written for this site. The site has plenty of topics that you can write on, so be creative, follow the blueprint, and write an engaging article that people will want to read.
Make a Living Writing
makealivingwriting.com pays $75-$150 for guest posts (higher fees are for longer, in-depth pieces written on assignment only). They have given a variety of topics to write about on their website.
Pazhagalaam.com
Pazhagalaam.com will pay you $3 for 1000 views on the article that you submit. You don't need to be an expert—you just need to have good English writing, original content, and no Plagiarism. Pazhagalaam.com is mainly for Tamil writers who do have not much choice to write and earn.
Start your own Blog
This will be your #1 way to make a living online. I've been blogging for five years now and I even have more than one blog. Why? Because blogging can help you make money fast.
A lot of these ways won't happen unless you start a blog. I have a handy and easy tutorial on starting a blog for your business, so make sure to check that out!
If you're unsure about what a blog is – a blog is a way to express your thoughts and teachings online. You use a platform like WordPress.org to have a self-hosted blog.
With a self-hosted blog, you can start making money online.
---
Now is the year to really sit down and make a plan for your side hustle journey. Whether you're a mom or parent or college student, you can easily find a way to make money doing what you love.
Your plan should be consistent in starting a blog, marketing your blog, and improving your writing.
If you need more help with how to make money with your writing, please free to contact me.