Starting A Blog in 2022
You may want to share your experiences with others who went through similar trials and tribulations. You might want to build a following as a side hustle or an escape from reality. You might just be so passionate about a topic that you want to use your voice and tell your story. Another less common reason is to grow your business.
Blogging can help with promoting products or services, and it can be a new way for people to find out more information about your brand. It also has a ton of other benefits which I'll get into more in the section below. But first, let me tell you how blogging can help with your goals. I'm not going to lie, starting a blog is hard. You'll need time and patience to build up an audience, but it's worth it in the long run. Blogging does have a lot of upsides, which I'll get into below.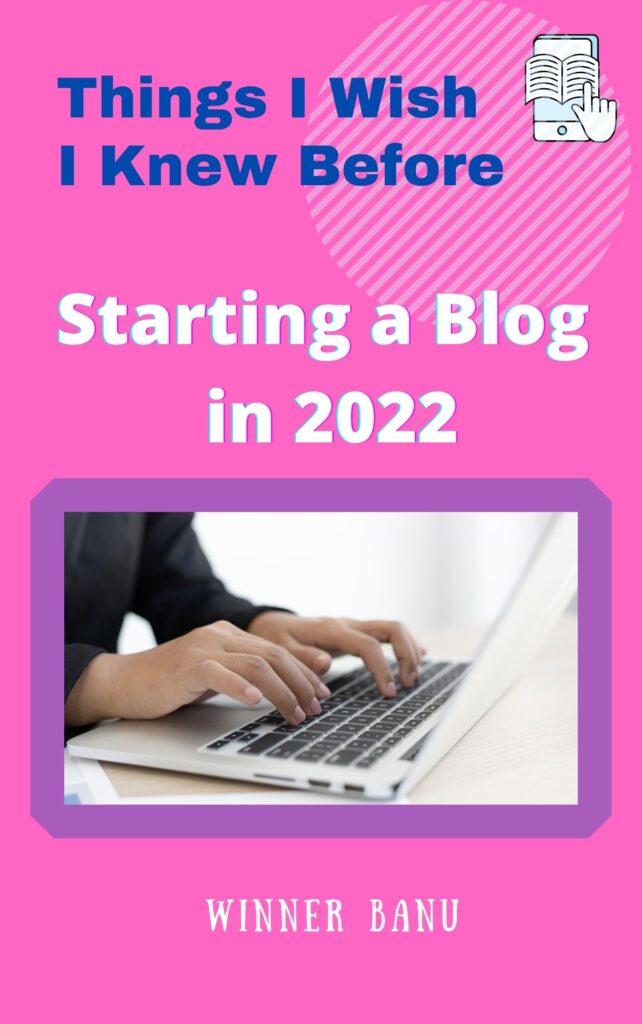 How do I start my first blog post?
Starting a blog post sounds like a daunting task. You might be wondering: What should I write about? How do I get traffic to my blog posts? How do I know if my blog post is well-written? These are some of the questions that first-time bloggers often have. We've got you covered. This article will provide answers to these questions and more, giving you the information that you need to start your blog off right.
One of the most popular questions asked by bloggers is: What should I write about? That's a great question! You might be wondering, "What should I blog about?" or "Do I really need to blog?". The answer is: Yes! Blogging is an excellent way to increase your audience and build a better following. It can also help you find new sources of revenue. There are a number of different ways to blog, which is why we've included some links throughout this article to help you get started.
The first thing that comes to mind is: What should I blog about? Your blog post could be about anything- health and fitness, style, fashion, beauty, travel- the sky's the limit. But what is the goal of your blog? The goal of your blog is to share your thoughts and experiences with readers who want to read about something similar.
If you're blogging about personal style, you might decide to include "day in the life" posts where you talk about what you wore that day, or how you styled a different outfit. If you're writing a news blog, you might write "news you can wear" posts that are more about what's trending in the fashion world. While there is no right or wrong answer, feel free to choose whatever style of blogging you like best!
The Best Platforms to Start Your Own Blog
There are many platforms to start your own blog. You can choose a free platform like WordPress or a paid one like Squarespace , Wix or Weebly.
WordPress is a free and open-source content management system that you can use to create a website or blog. It's the most popular blogging platform on the internet, with over 70 million websites using it worldwide.
Squarespace is an all-in-one website builder, hosting provider, and domain name registrar. It was launched in 2004 by two designers who were frustrated by the lack of good tools for building websites.
There are also many other platforms like Blogger and Medium that you can use to start your own blog today!
Tips For Writing A Great Blog Post or Article & How to Get Started
Writing a blog post or article is not an easy task. You have to come up with something new and fresh and then put it in words. It is not as easy as it sounds, but there are some tips that can help you get started.
1) Brainstorm:
Before you even start writing, it is important to brainstorm your topic. Spend some time thinking about the best way to approach the topic and what you want to say about it. This will help you write a better post because you will know what direction your post should take.
2) Do Some Research: Once you figure out your topic, do some research on the subject matter. This will give you more ideas for topics and also give you facts that can be used in your article or blog post.
3) Look for Interviews: When you are trying to find information on a certain topic, look for interviews. This can be done by looking on the internet and finding out who has written an article with someone who knows more about the subject.
4) Write your Introduction: To write your blog post or article, it is important to have an introduction. This is the section that is going to introduce what your blog post will be about. In this introduction, it is important to have a strong first paragraph that can pull the reader in and make them want to continue reading.5) Write the Body: After you have drafted an introduction, you should move on and write the body of your blog post or article. The body
The body of your blog post or article should be a persuasive and relevant section. It should include the following:
– Your introduction and its relevance to the topic.
– The benefits of AI writing assistants
– The types of content that AI writing assistants can generate
– Use cases of AI writing tools
– Examples of AI writing assistants in action
There are many examples of AI writing assistants, such as WordAI, Rytr and QuillBot, that can be used to efficiently write content. Some of these tools are even designed for specific purposes such as transforming a set of sentences into a coherent paragraph or producing a blog post from an outline.
5 Tips for Building Your Author Brand with Your Blog
1. Create quality content for your blog
The content you produce for your blog can either make or break you. In order to have success with your blog, it is important to have quality content that attracts and engages readers. The following are a few key points to help you create successful blog content:
2. Be consistent with the frequency of your posts
It's no secret that social media is one of the most powerful marketing tools. However, it takes a lot of time and effort to maintain an active social media presence. There are ways to automate your posts to make things easier, but you also want to keep your audience engaged by posting on a regular schedule. The best way to accomplish this is by posting consistently, say at least once a day. "I think it's important to have a social media presence and be active because of the reach it can have, especially for small businesses." —Vera Rodriguez, owner of Elegante Jewelry
3. Create an online author profile
Author profiles are becoming more important in the digital age. They help readers to understand your writing style and what you're looking for. They can also help you build a community of readers that are excited about your work.
4. Use social media to build your brand and engage with readers
Social media can be an invaluable resource for a writer. It provides not just a way to reach your audience, but also a way for them to interact with you and your work. Regardless of the type of writing you do; it is important to use social media as part of your marketing strategy.
5. Engage on other blogs to promote and share your work
One way to promote and share your work is to write guest blog posts. This can be done by finding relevant blogs and pitching ideas that the blog owner is interested in. This article has a list of tips on how to do this, along with a list of places where you can find blogs you want to write for. .Guest blogging is a great way to get your name out there. It's also safe because you don't have to worry about getting sued for copying their work. Bloggers are more likely to accept guest posts from people whose work they know, so try to learn about the blog beforehand and write something that the blogger will find interesting.
5 Steps for Creating Content That Appeals to the Modern Audience
To create content that appeals to the modern audience, we need to understand their needs. When you know what they need, you can create content that will resonate with them.
1) Know Your Audience
To be successful in the digital age, it is important that you know your audience and what they need. This means knowing what they want before they even know it themselves. You have to understand their needs and desires and cater your content accordingly.
2) Make Sure It's Relevant
It is not enough for a piece of content just to be appealing to your target audience – it must also be relevant. If people don't find the information interesting or useful, then they won't engage with it and share it with others. That's why relevance is so important – because it is what makes content shareable.
3) Make It Useful. It often seems as if people are more likely to share information that they find useful, whether that information is newsworthy or not. So, make sure your content helps others by providing them with value, and they'll be more likely to share it with those around them and tell their friends about it.
4) Keep It Personal. Your audience will be more likely to engage with content that is personal and unique. So, for your content to be successful, it should show the human side of who you are as a brand.
10 Things I Wish I Knew Before Starting My First Blog Post
The best way to start a blog is to follow a simple formula. The following 10 points will help you get started with your first blog post.
1) Decide on your topic
2) Find an angle
3) Brainstorm ideas
4) Research and define the keywords
5) Write your article in the right format, style, and tone
6) Edit, edit, edit! Make sure that the content is error-free and well-written
7) Create an attractive title for your article
8 ) Add images to make it more interesting and appealing to readers
9) Give it away for free as long as you are not selling anything or promoting any kind of product or service in return. This will increase the chances of getting more views
10) Submit your article on a website/blog that is connected to your topicIf you follow these steps, then most of the work has been done for you!
How to Build an Email List for Your Blog
As a blogger, you need to have a mailing list of your readers. It will give you the power of market research and will help you find out what topics they are interested in.
There are a number of ways to grow your list, so please keep reading our guide for more information on how to do it today.
One way is to use popups or popunders on your website. You can place them at strategic points where visitors are likely to stop reading or scrolling down the page. So if they are reading a blog post, they will likely stop when they see the popup.
The first step to building an email list is to make sure that it's easy for your subscribers to sign up. You want them to feel like signing up is a no brainier, otherwise they'll just forget about it.
If you're asking for an email address in the header or footer of a blog post, make sure the form is large and easy to fill out. And if you've already asked for an email, be sure you're following up with them in other ways too (like with an autoresponder).
Lastly, always offer something in exchange for their emails. Whether it's insider content, discounts or giveaways- your subscribers will be thankful!
What are the Most Common Blog Mistakes?
The first mistake is that they focus on getting traffic instead of on building a relationship with their readers. Your primary goal should be to have followers and not just page views.
The second mistake is that they overreact to criticism and the challenging feedback from others. Even the pros are subject to criticism, so don't be afraid of constructive feedback. This way you can grow as an individual blogger and follow industry trends more closely.
The third common mistake is related to social media mentions. You should never respond to negative comments on other people's blogs or social media platforms, this only causes conflict which will push readers away from your content and brand. If someone says something nasty on your blog, write a response in your own words that you would like to say if they had been kind and supportive.
They give up too easily. The mistake is that they give up too easily thinking their blog's not working. If you have invested time and money into the project, don' t give up too easily. There might be more to it. Instead of giving up, try experimenting with the blog's setup and see if you can find a new way to generate traffic.
The fifth mistake is that they don't make blogging their top priority. They don't make it their top priority as compared to other work or daily activities. Many blogs are created with the idea that it is their main business.
The sixth mistake is that they don't have a clear outline. They end up spending more time editing and rewriting than writing, which results in low-quality content.
The seventh mistake is that they don't track and measure their time spent on the blog. This helps them determine how much time they spend on the blog each week, what days they spend the most time on, and if there are better days for them to post.
The eighth mistake is that they don't think about their audience. If you want to make your blog popular, consider your niche and appeal to it. You must know who you are writing for and what would convince them to read your blog. Don't get too caught up in the aesthetics of your first blog. You'll figure out what looks best as you build connections and develop your audience, but don't be afraid to innovate with a new design at any point in time.
If you want to make blogging more of a career, try not to lean on advertising. This doesn't mean that you can't use advertising on your site, but it's more effective if it's a natural part of your content instead of the goal. Consistently update your blog posts with relevant information. Keep in mind the typical reader expectations for blogs and you'll be able to provide interesting, valuable content to readers on a regular basis.
Conclusion: You Will Successfully Build Your Audience If You Follow These 3 Steps
In conclusion, you will successfully build your audience if you follow these 3 steps:
– Create content that is valuable and unique to your readers
– Share it in the right places at the right times
– Engage with your audience and build relationships with them.
Blogging is one of the best ways to improve relationships with customers, generate target-specific content, and build an audience. However, before starting a new blog, there are a few things you need to consider:
Is there already a blog on the same topic? If so, you will have to come up with different content and topics from what is already available. This may mean changing what you do or how you do it in order to stay relevant.
You need to think about how long you will be able to maintain your blog before other tasks take priority over the commitment. If it is just for fun or just for educational reasons then this may not be an issue but if blogging is part of your professional life then it needs careful consideration as time can become tight and priorities shift which means that blogs may need to be done in the evenings, during your lunch breaks or late at night. Take time to think about this and make an appropriate plan for your blog.