The results of using the AI image generator to kickstart my art business have been fantastic. In just a few short weeks, I've managed to create a whole new body of work that is selling like hotcakes. I'm not sure what I would have done without it!
This amazing technology can generate art from scratch using just a few inputs from me. With this new tool in my arsenal, I was able to kickstart my art business and create stunning pieces without breaking the bank or sacrificing quality. In this blog post, I'm going to share with you how AI image generators helped me get started with my own art business and why you should consider using them too!
What is AI image generation?
In recent years, AI image generation has become a hot topic in the world of art and design. By using artificial intelligence algorithms, artists and designers can create realistic or stylized images that would otherwise be impossible to create by hand.

There are a number of different ways to generate images with AI, but one of the most popular methods is called DALL·E.
For those unfamiliar with DALL-E, it is a powerful AI tool that is able to generate original images from textual descriptions. For example, you can input the description "a two-story pink house with a white fence and a red door," and DALL-E will generate an image of exactly that. As someone who often struggles with writer's block and artistic inspiration, I immediately saw the potential for DALL-E to revolutionize my art business.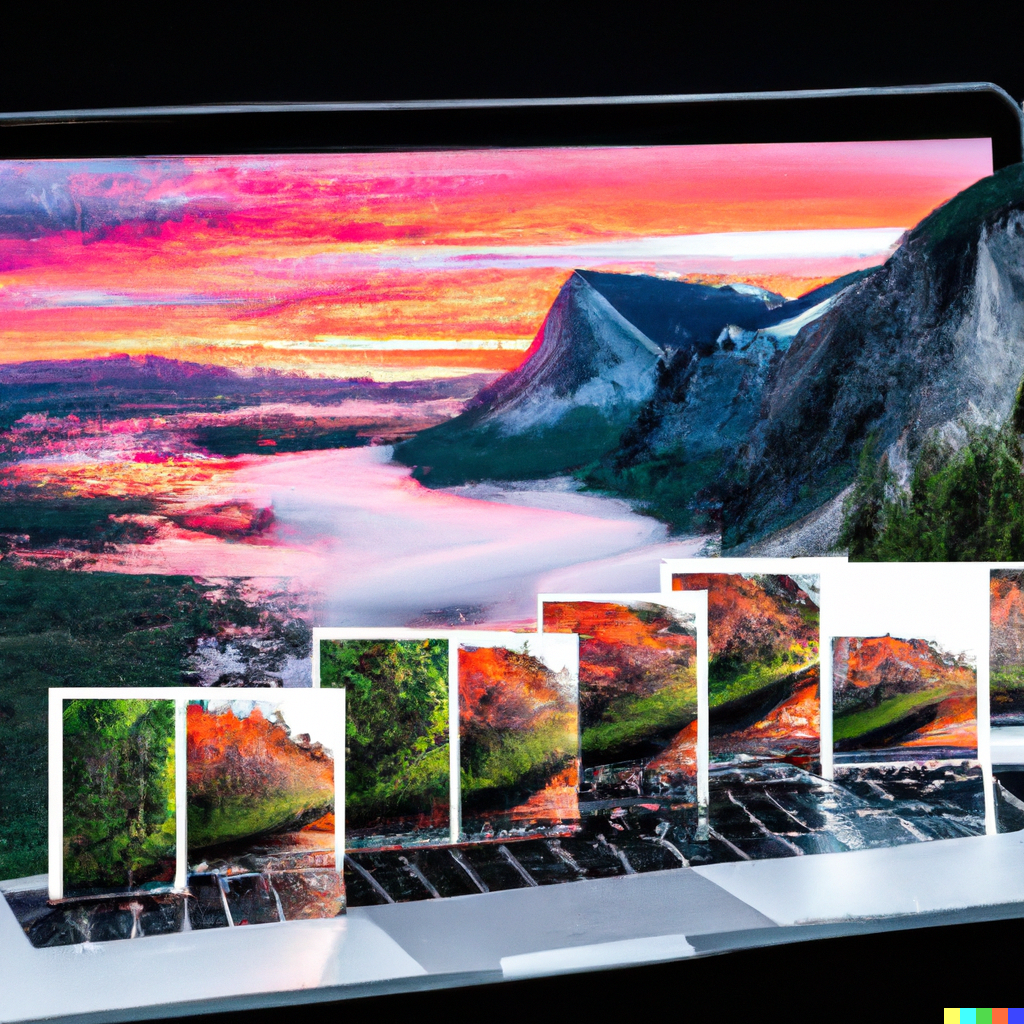 Is it possible to sell DALL-E-generated images on Etsy?
Etsy allows the sale of a wide range of handmade, vintage, and creative goods, and it is up to the seller to ensure that their items meet the platform's guidelines. According to Etsy's guidelines, "digital art" is allowed as long as it meets the following criteria:
The digital file must be delivered to the buyer upon purchase
The seller must have the rights to sell the digital file
The digital file must be created by the seller or have been significantly modified by the seller
Given these guidelines, it is possible to sell DALL-E-generated images on Etsy as long as you meet the above criteria. However, it's important to note that you will need to have the rights to sell the images and be able to deliver the digital file to the buyer upon purchase. Additionally, you will need to ensure that your listings and descriptions clearly state that the images were generated using DALL-E and provide information on how the images were modified or transformed into finished artworks.
Started AI Art image collection
I started by coming up with a list of descriptions for the type of art I wanted to create. These ranged from simple and straightforward, like "a colourful abstract painting," to more complex and specific, like "a surreal landscape featuring a giant tree with a house built into the trunk and a river running through the branches." I was amazed by the diversity of images that DALL-E was able to produce, and I spent hours scrolling through the generated images, saving my favourites to use as the basis for my art.
With a collection of inspiring images in hand, I set to work on creating my art. I used a combination of traditional media, like paints and markers, and digital tools like Photoshop to turn the generated images into finished pieces. The process was both challenging and rewarding, as I had to use my artistic skills and vision to bring the generated images to life.
Generate original images using DALL-E
With a good understanding of how DALL-E works, you can start using it to generate original images based on your own descriptions. You can use DALL-E to create a wide range of images, including drawings, paintings, and digital art.
To generate images with DALL-E, simply input a textual description and specify the size and format you want the image to be in. DALL-E will then generate a selection of images for you to choose from. You can use these generated images as the basis for your art, or as inspiration for new ideas.
Started selling my art on Etsy
Once I had a collection of finished pieces, I was ready to start selling my art on Etsy. Setting up a shop on the platform was straightforward and easy, and I was able to create listings for my art, set prices, and handle orders and shipping with minimal effort.
To promote my shop and increase sales, I focused on creating high-quality product photos, writing detailed and informative product descriptions, and engaging with potential customers through social media and other online channels. I also offered custom art commissions, which allowed me to work with clients to create one-of-a-kind pieces based on their specific requests and ideas.
The combination of DALL-E's image generation capabilities and Etsy's user-friendly platform has been a winning combination for my art business. I've been able to consistently create and list new items, and I've seen a steady stream of sales and positive feedback from happy customers.
Promote your Etsy shop and increase sales
To earn a consistent income from your art business, you'll need to consistently create and list new items and promote your shop. There are a number of ways you can do this, including:
Offering custom art commissions: This allows you to work with clients to create one-of-a-kind pieces based on their specific requests and ideas.
Utilizing social media and other online platforms: By actively promoting your shop on social media and other online platforms, you can reach a wider audience and drive more traffic to your Etsy shop.
Participating in Etsy's promoted listings program: This program allows you to pay to have your listings appear at the top of relevant search results and category pages.
Conclusion on Selling AI art on Etsy
AI image generation technology has changed the way I look at art. After taking advantage of its capabilities, it showed me a whole new approach to creating custom artwork and gave me the confidence to launch my own business. As I continue growing as an artist, AI will be there every step of the way helping me create more vibrant and captivating visuals that can resonate with people from all walks of life. With this newfound power in my hands, it's only up from here!
By following these steps and consistently creating and promoting your art, you can successfully start a business selling AI art generated from DALL-E on Etsy. Whether you're an experienced artist or a newcomer to the world of art and commerce, DALL-E and Etsy provide a powerful and accessible platform for creating and selling original
Overall, using DALL-E to create and sell art on Etsy has been a hugely rewarding and fulfilling experience. Not only has it allowed me to tap into a seemingly endless source of artistic inspiration, but it has also helped me to build a successful and sustainable business doing what I love. If you're an artist looking to kickstart your art business or just in need of some creative inspiration, I highly recommend giving DALL-E a try.