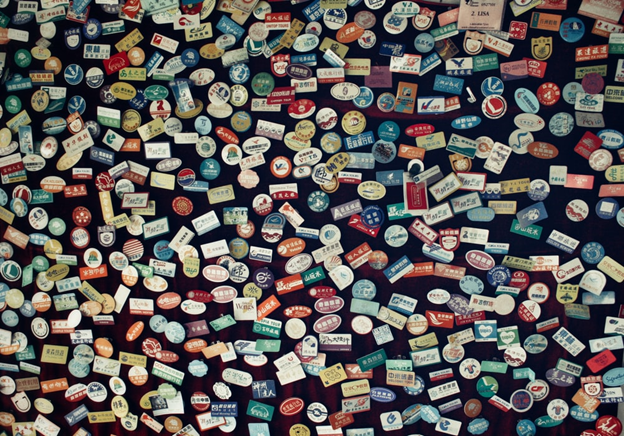 Some believe that designing a distinctive logo is a simple matter that can be easily implemented, but the truth is quite the opposite, as it takes a lot of effort and research in order to reach satisfactory results.
The logo that you want to design (in English Logo) must represent your brand, in order to give a good impression to everyone who sees it and interacts with it, regardless of how you use this logo.
Whatever your goal of designing a logo, whether for your site, your company, or your store, or even you want to work as a freelance lancer who specializes in designing logos…. Here you'll find everything you need to be able to design a unique logo yourself – even if this is your first time designing anything.
My advice to you before you start designing your logo is to read the entire article first in order to get a general idea, and then start implementing what is in it stage by stage.
First steps are to design a logo on a proper foundation
1. Determine your logo design goal
Professional logo design requires a lot of thinking about your brand, and the message that you want to reach to people, so you have to know exactly what you want with this logo.
Remember that the goal of designing a logo will affect the course of the design process, and the decisions you will make in choosing the type of design and colors, especially if you are going to print this logo.
You have to ask: Do you want a logo just for your website or social media accounts? (This is the easiest type of logos to design, because you can easily change it later.)
Or do you want to design a logo for your company or store on the ground? In this case, the matter is a little more difficult and requires more effort because you will use this logo to communicate with your customers, and you may use it in making your own publications or business cards.
All this makes designing a logo for a commercial purpose a process that requires more caution, because you spend money and also a lot of time, for this the logo must be distinctive and completely appropriate for what you want.
2. Select the logo format you want
This step is based on the previous one, when you determine the goal of your logo, you can easily choose its own structure or format, and what is meant here is the file format in which the design is made.
As you know, there are several formats for image files such as PNG, JPEG, and others, which can be extracted through various design programs, which we will learn about the most important of them to fit your logo:
JPG format: more suitable for paper prints.
PNG format: more suitable for social media and online sites.
SVG format: suitable for responsive designs, especially for web applications.
TIFF format: This is a high-quality, uncompressed format suitable for large prints.
EPS format: This is the most popular format, because it is based on the vector technology that designers usually use using programs such as Photoshop and Adobe Illustrator, and other programs that printing companies can easily deal with.
You can extract more than one format for your files simply by designing programs that we will explain later.
3. Look for inspiring logo design ideas
Anyone who wants to design a logo must first have a certain idea in their head, or a certain inspiration. Then he turns this idea into a design on the ground.
So the question here is how do you search for these ideas, how do you find several sources to get inspired by an idea that suits the nature of your site or company.
There are several sources, and here are the most important ones:
Search on Behance, this site is one of the most important platforms for design and graphics, in which many designers from all over the world come together to present their work. You can easily browse these works in order to get inspired by some ideas, as shown in the picture below: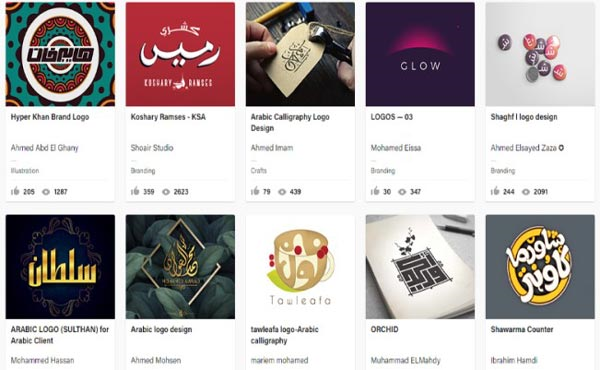 2. Search the search engines and image sites different for your field, you will find many great ideas in your field of interest
3. Look for competitors or similar sites, regardless of your business, there is definitely a competitor for you or an entity working in your field. Look for these entities and look at their logos and publications.
4. Use some ready-made online logo design tools such as the wix tool to design logos, which asks you to enter some data about your company and the field in which you specialize, and generates a lot of ideas for designing your logo, which can be inspired by some ideas or even used by itself. If you find it suitable for you.
There are a lot of tools and sites that you can search to get a lot of ideas, but do not let this process take you too long so that you do not get distracted.
4. Select the type of logo that is right for you
There are certain types of logos known to designers, which greatly facilitate the design process, these types are inspired by the reality and the famous designs of the most famous companies and international brands.
Among the most important of these types:
1. A logo that relies on simple symbols or icons: One of the most famous examples of this type is the logo of Nike, Vodafone and Apple (an apple was taken from a small piece).
This type requires a specific icon or a simple icon that will be a distinctive feature of your site or company.
2. Word-mark slogan: such as the Facebook logo, the international company Visa, Coca-Cola and Google.
All this type requires is writing the name of your company or service in regular letters, and of course you can manipulate the fonts and colors just like Google does.
3. Letter-mark logo: such as the famous IBM logo, HP computer maker, H&M global apparel brand, or the famous McDonald's chain.
All it requires is choosing specific letters (it can be your initials or your company name) and playing around with them with colors in the background.
4. Logo that depends on more than one type (Combination): This type is a mixture of two or more types of the aforementioned ones, such as the Adidas clothing company logo and the Pizza hut logo or Burger King.
5. Other types not restricted by any rules: This type does not depend on a specific style or a specific method. Perhaps it represents the story of the founding of the company or the site, or a random drawing, there are many examples of this type, such as the logo of the famous BMW company for luxury cars and the Kentucky International Series.
Deciding what type of logo you want to design by simulating the previous examples will make the design process itself much simpler than before.
5. Choose a style for your logo design
This is an unnecessary step, but it will help you a lot, especially if this is your first time in designing or you are not a professional designer. And in the following list you will find the most popular design techniques:
Minimal design: This method relies on simplicity in using shapes and often uses two colors as a maximum.
Modern Design: This style is based on modern shapes and colors that are based on the gradient style.
Classic design (Retro Design): This method is the most used and repeated in most designs due to its ease of design and the presence of many examples of it.
Creative Design: This method depends on freedom and breaking the rules, as it is not restricted to a specific shape or style and depends on the creativity and imagination of the designer.
Tips for designing a good logo
1. There are many ways and methods to design a distinctive and eye-catching logo, the most important of which is to try. You can use paper and pen and try to draw more than one concept and idea for the logo that you want after you have done the search.
Try not to be restricted to one idea or method only, try more than one method and style until you reach the result that satisfies you.
2.Use geometric shapes to draw the logo you want. You will not believe that many of the logos you see are overlapping geometric shapes, an example of this is the Twitter logo shown in the picture below: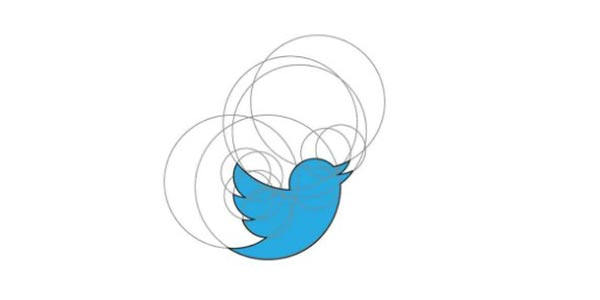 This design method helps to produce many drawings and shapes in an easy and more accurate way than the free method.
3. Test your logo after designing it with several backgrounds and sizes. Try the design in black and white only, to make sure of its quality, and that it will be suitable for the publications and places where you will use it.
4. Do not forget the rule "Simplicity is the Secret of Beauty". In the world of design in general, simplicity is the key to beauty, which should be represented in the calm and limitations of colors, clarity of design, consideration of empty spaces, and making it comfortable for the eye.
5. Always remember that the best slogans are the ones that you can easily remember, and that leave a positive impact on the soul of everyone who sees them.
6. Use the opinions of those around you and do not favor your own favor. Often times, logo designers fall prey to their own markets that may not meet the audience's beauty standards, and do not fulfill the brand's message perfectly.
To avoid this, you should show your designs to the largest possible number of specialists and the target audience as well, and perhaps the opinion of your personal circle will give you some hint of how good the logo you designed.
In the end, do not be in a hurry and take advantage of all the tools and resources that I mentioned for you, and do not forget to share with us your wonderful logo that you designed by following these steps.