As you know Singapore population is very saturated and highly competitive, that's why you need to be different in order to stand out. How to Earn More Money in Singapore is the biggest question in all Singaporeans mind.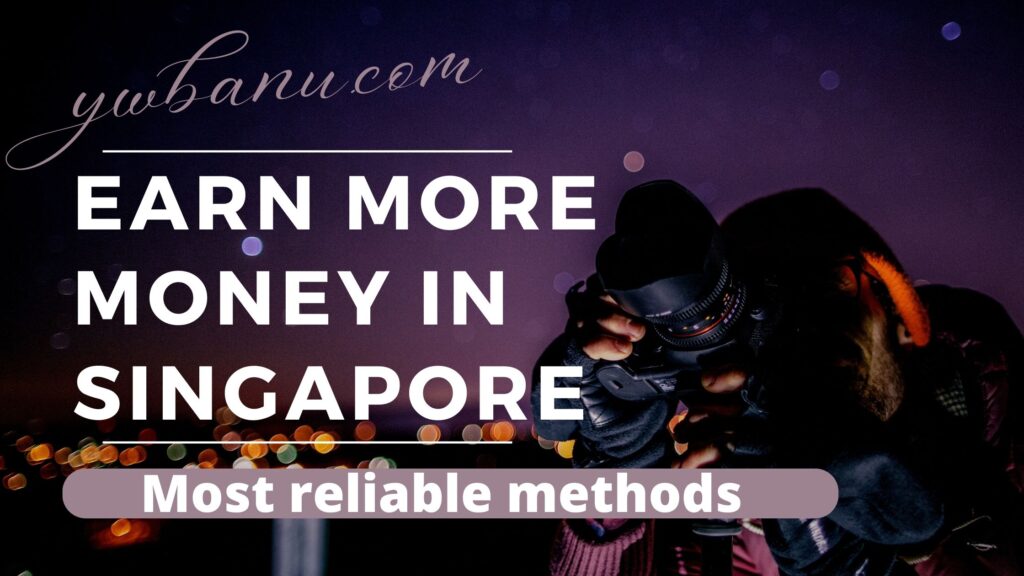 If you are looking for ways to earn more money, you have come to the right place to Winner Banu's blog. This article will show you how to earn more money in Singapore.
Earning Money in Singapore is not an easy task. Unless you come up with some unique, and no one has ever done that kind of Idea. If you have a unique idea in your mind, then nothing more than that. You can start working less and earn more.
How can I make money fast in Singapore?
There are a few ways that you can make money fast in Singapore. One way is to find odd jobs, such as Grab Food Delivery, LalaMove or Uparcel Delivery that you can do when you are free.  
Another way is to sell items that you no longer need. For this you can use the website Carousell. It's a best website to find odd jobs or to start selling your unwanted items fast.
Finally, you can also offer your services as a tutor or pet-sitter. With a little effort, you can easily earn some extra cash!
How to Earn More Money in Singapore from home?
There are several ways to earn money from home in Singapore. You can start your own home business, find a freelance jobs, or even start a blog.
Own businesses
Own business can be referring to both products or services that people need. This can be anything from home-based businesses to online businesses. There are many opportunities for entrepreneurs in Singapore. One of the highly demanded home-based freelance job is Accounting works.
You know that in Singapore, if you start a business, you need to keep your accounts in proper and submit you yearly accounts to IRAS timely. Therefore these Freelance accountant is required by many small companies all the time.
You can find freelance work on websites like Fiverr and Picoworkers. There are also many local companies that are always looking for freelancers.
Starting a blog
Starting a blog is another great way to earn money from home. You can start a blog about anything that interests you. Once you build up a following, you can start earning money from advertising and affiliate marketing.
You can join the Crown Member to get full guidance on Blogging set up. Crown Member was founded by Successful Singapore Female Entrepreneurs who are passionate about guiding others to make money through blogging.
How can I make an extra 500 a month?
If you are thinking of getting an additional $500 a month, you can consider NFT Flipping. NFT flipping involves buying low and selling high. You can buy NFTs when they are first released, or you can wait for the price to go down and then buy them. Once you own an NFT, you can sell it at any time. The key is to sell when the price is right.
If you're interested in NFT flipping, you need to do your research. You need to understand how the market works and what factors affect NFT prices. You also need to have a good understanding of blockchain technology. Once you have all this knowledge, you can start buying and selling NFTs and making money.
Making some extra in Singapore
Making some extra money each month in Singapore is possible if you're willing to put in the effort. There are many ways to make money, so it's worth investigating what could work for you.
If you're looking to earn more money in Singapore, it will not be as easy as you think because your existing full-time job will drain out all of your energy. This will prevent you from thinking about anything else except going home and getting a good night's sleep to prepare for the next day.
If you feel that you have some energy, you can also find ways to make money through side hustles. Dropshipping, freelancing, affiliate marketing, selling photos, and print-on-demand are all side hustles that can be started with little money.
Finally, make sure you're mindful of your spending and save as much money as possible.
Earn free money Singapore
You will be surprised that you hadn't thought of this before. Yes! You can get free money in Singapore.
1. Look around your house; is there anything you haven't used in a while that you should get rid of? Do it right away. Sell it in Carousell, you will not believe how quickly you will receive a response. Next day itself, someone will come to your doorstep and take away your item, giving you cash payments.
2. ComCare Short-To-Medium-Term Assistance. If you are currently very much struggling to run your family, you can consider seeking Comcare assistance.  If you have a have a household income of $1,900/month and below, or a per capita household income of $650/month and below, apply for this immediately. You will be assisted with monthly cash and other support till you find job.
3. Answering Surveys. This method is quite infamous. But still many people are doing it. You answer some survey questions, you get paid $0.20 to $1.50.  Once you accumulate to a certain amount you can take out the earnings through PayPal. I use Ysense survey site. They have been quite reliable and easy to answer surveys.
Conclusion
Basically, it is all Singaporean's struggle to have some extra income to pay for their family's daily needs and to pay off their loans and bills. I will not say that it is not possible, but I will say that it is not easy.  My advice is to keep researching and keep trying till you find your methods. If you see Instagram accounts, all of them are online sellers. Promoting their home businesses online and getting customers. There will be some earning methods out there for you. Without trying them out, you won't be able to know if it is working out for you or not.