Get Paid to Search Google by Just installing an extension by SerpClix. You may be surprised to learn that you can actually get paid to search Google! While this may not be a full-time gig and may not give you big earnings, it is a great way to earn a little extra pocket money. In this article, we will tell you everything you need to know about getting paid to search Google and also a SerpClix Review.
How can you get paid to Search Google?
There are a few different ways to do this. One way is to sign up with a company that will pay you to search on their behalf. These companies are usually looking for specific information and they are willing to pay people to find it for them.
Another is they are paying for google search because they want a certain website to rank for a certain keyword.
For example, if a website wants to be ranked for a keyword such as "make money online", then this keyword has to be searched in the Google search engine and they will have to click only that particular website in the search result from the "make money online" search. When a lot of them click that particular website for the keyword "make money online", then that website will get top ranked for the keyword "make money online".
Getting paid to use the Google Search Engine method is the easiest option if you want to make money from home.
How do you get paid to Search Google using SerpClix?
SerpClix is a new service that allows you to get paid for your searching. That's right, now you can earn money simply by using Google like you always do. Serpclix has a highly smart extension which you have to install in Firefox.
All you have to do is search a keyword word to spot the correct website to be paid by Serpclix. You can get paid a few cents each time you search for something using their service. The amount you get paid depends on how popular the search term is. How much per click costs also depends on which country you are from.
How do I become a clicker?
There are a few ways that you can become a clicker and get paid to search Google. The first way is to sign up for a service like SerpClix. Install the extension on Firefox and you have to wait for a click order to be available for you. Therefore, you just have to let the extension be online at the backend, while you are working on your laptop. Whenever a click order is available, you will be prompted with a notification.
How do I add the add-on to my toolbar manually?
Follow the instructions here to install the SerpClix add-on.
When a click order is available for you by Serpclix.
The moment, you receive the click order notification, proceed to your Firefox browser. Click on the order, you will have a google search engine open on the new tab.
Here, you must Paste the Keyword. (You can either press CTRL+V or Right click mouse and press Paste). When you search for this keyword, a list of related websites will appear on the search.
The website that you have to click on will appear in a pink highlighted box. You have to click that website and remain on that website till the timer count finishes.
That's it. Once you completed these steps, you have just earned $0.05 or $0.10.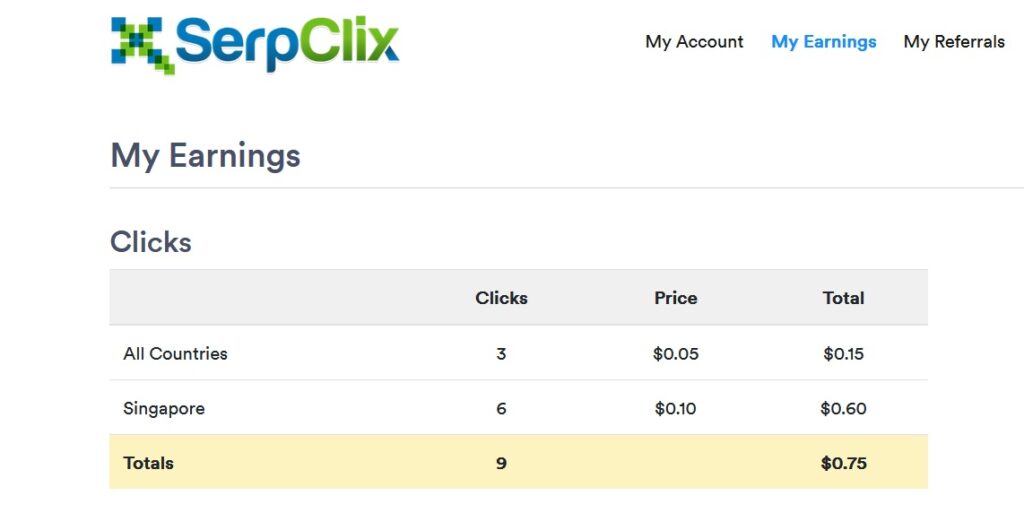 How much can you make with SerpClix?
For every search you make on SerpClix, you'll earn a small amount of money. How much depends on the country you're searching from and the type of search. For example, searches from the United States tend to pay more than searches from other countries.
But even if you only make a few cents per search, it can add up quickly. If you log in and let the SerpClix extension run at the backend, you wait for the ads clicking order, you could easily earn over $20 per month! And there's no limit to how much you can earn, as you can easily get a few click orders per day. The more you search, the more money you can make.
So if you're looking for a way to earn some extra cash, give SerpClix a try. It's free to join and you can start earning money immediately.
My Serpclix Review
Let me reassure you! SerpClix is not a scam. It's completely legit, and yes, it's true!
You can start using google search just to earn a few more bucks!
However, you will not make hundreds of dollars a week with this SerpClix. Make sure you don't set unrealistic expectations for how much you can make!
Depending on the click orders you receive, you can earn between $5 to $20 a month!
I love SerpClix because it helps you make some free money out of something you are already doing, and it encourages you to earn a few bucks here and there in your free time.
This is the main way to earn money with SerpClix. Just install the extension on Firefox, let the extension run in the background, and you just continue doing your usual work on your PC!
What I Like About SerpClix
Free to join from anywhere in the world
Easy to do Click-to-earn method
Low payout threshold
The waiting time to remain on each website is not too long
What I Don't Like About SerpClix
Earning potential is extremely low
Sometimes No Click orders for more than one hour
Unable to find the website that we are supposed to click on.
The website that we are supposed to click on appears on Page 10 or Page 11 of a Google search.

Conclusion
So, there you have it, I'm not a fan of getting paid to search Google methods like SerpClix. In my opinion, these sites could be a good way for newbies to learn that it takes time and effort to make money online or if you need some quick cash.
While searching for the best ways to make money online myself, I bumped into a platform where you can start making money online in the best way possible.
Once you accumulate some earnings from this method, just treat yourself to a good meal or a movie with these extra earnings.