Winner Banu Team is proudly presenting the Blender Software Course.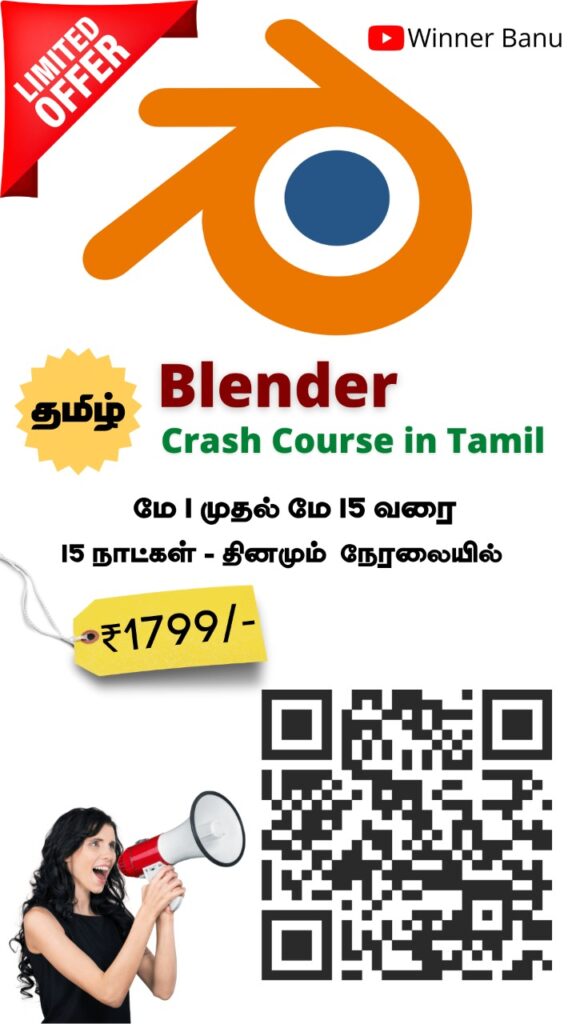 The course is expected to start in May 2022.
Registration Period
April 2022: ➡️ Register here
Participants
We are only taking 100 Participants ( for May 2022 course ).
Course Fees
It is Only Rs1800
Blender அறிமுகம் – The complete guide for Beginner
This course is for anyone majoring in Animation, Design Engineering & Game Technology.
If you want to learn 3D and you don't have any experience or any knowledge, don't worry !
You've come to the right place.
This course will teach you the fundamentals of 3D skills using Blender 2.8 or above. The curriculum in this course is carefully designed so that anyone can learn gradually from the easiest lesson to the more advanced lessons, very easily.
After completing this course you should be able to model your own 3D Model in the course cover image, add materials to it, create lights, and then render it using the EEVEE rendering engine.
Course Details ( Basic Level ) – In Tamil Language
Day 1 Blender அறிமுகம்
Day 2 Blender Interface I
Day 3 Blender Interface II
Day 4 Blender Collections
Day 5 Blender Workspace and use case
Day 6 Blender Mesh Selection
Day 7 Blender Shades
Day 8 Blender Textures
Day 9 Blender Editing Modes
Day 10 Blender Lights & Setup
Day 11 Blender UV unwrapping
Day 12 Blender Render Setup
Day 13 Blender EV Rendering
Day 14 Blender Keyframes
Day 15 Blender Rigging Intro, Happy Ending
Who this course is for:
Beginners who want to learn 3D from scratch using Blender.
People who want to make video games using game engines such as Unity, Unreal, Godot, etc.
Architects and interior designers who want to create stunning 3D visualization.
Graphic designers who want to add 3D elements to their design.
Anyone who needs strong 3D skills for different kinds of purposes such as 3D printing, virtual reality, augmented reality, product presentation, etc.
For job seekers who just want to add an additional skill to their Resume!
Instructor – Haridass
Is Our very Own OMGponnu NFT 3D Artist! Most energetic and self-motivated person. Highly skilled and professional individual. He is currently a freelancer and is actively involved with development projects in game programming, computer-aided design, and computer graphics.
Certificate
All participants will receive a Certificate of Completion from the Winner Banu team after achieving at least 75% attendance.
See you in the Course!